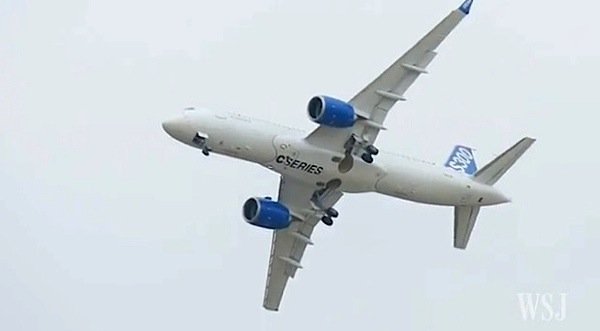 As widely expected, Bombardier has accepted a $1 billion bailout from the Quebec government after reporting a fourth quarter loss of $4.9 billion. The company has rid itself of the unprofitable Learjet 85 program and will concentrate on the C Series jet. The C Series has been in development since 2004 and has had major cost overruns. To make matters worse, sales have not been as robust as the company had anticipated. The C Series competes with both Airbus and Boeing in the 100–160-seat category. With its investment of $1 billion, the Quebec government acquires 49.5 per cent ownership of the C Series program. The CEO of Bombardier, Alain Bellemare, characterized the bailout as "having a partner inject liquidity."
Some analysts say the Quebec government had little choice but to rescue the aerospace giant. Not only is it a matter of national pride, but the company employs about 17,000 workers, many of them highly skilled. Salaries in the aerospace industry in Quebec are double the provincial average.
The government's action is by no means universally popular in Quebec, and opposition parties have denounced it. Without the government's intervention, however, there is a real risk that the aerospace industry could disappear from Quebec. There is still the possibility that the new government in Ottawa could play some role in assisting Bombardier. It is not uncommon in this industry for governments to provide such help. Both Airbus and the Brazilian airplane maker Embraer receive "considerable" government help according to a McGill University professor quoted in the Toronto Star.
Bombardier's CFO downplayed concerns about the company's liquidity situation, saying that the C Series will be profitable in less than five years. By 2020-2021 it will be generating positive cash flow, John Di Bert said. In the meantime, at least another $2 billion will have to be spent
Bombardier is also actively seeking a buyer for a minority stake in its train-making division, headquartered in Berlin.