Canada's manufacturing sector experienced a "sharp slowdown" in January according to the latest data from the RBC Canadian Manufacturing Purchasing Managers' Index (PMI), with manufacturers apparently feeling the effects of the oil price crash and even the falling Canadian dollar. The monthly survey showed that output and new business volumes grew, but at much slower rates than in December. Employment numbers also fell for the first time since the start of 2014. It was the second month running in which manufacturing production growth "moderated," and was the slowest month since May 2013, RBC says. The PMI dropped to 51 for January, down from 53.9 in December and 55.3 in November and October. A measure above 50 indicates expansion.
Manufacturers are uncertain about global growth prospects, financial market volatility and the collapse of oil prices, according to Craig Wright, chief economist at RBC. These conditions, he says, will improve "as we look ahead," and will support economic growth that is similar to last year's 2.5 per cent. In the meantime, new orders were down, based on "anecdotal evidence," in part due to softer demand from clients in the oil and gas sector. Export growth was also "subdued" during January, with new orders from abroad increasing just "fractionally," though US exports were reportedly higher for some firms.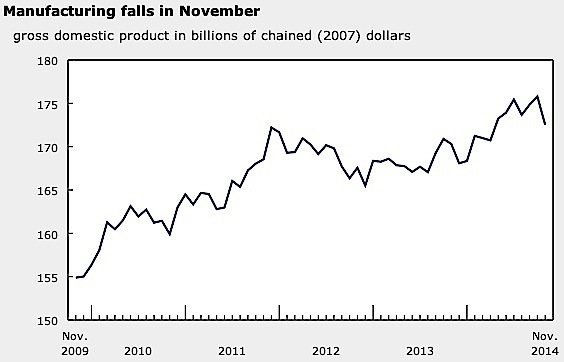 As we look ahead, we expect an eventual recovery in oil prices alongside a strong U.S. economy and a more competitive currency. These factors will support economic growth similar to the 2.5 per cent rate achieved last year and the manufacturing sector offsetting weakness in the energy sector.

Craig Wright, chief economist RBC
While the weaker Canadian dollar is generally taken to be a positive condition for exporting manufacturers, the director of the Canadian Manufacturers and Exporters, Mike Holden, told CBC news that the falling dollar has created uncertainty and discouraged capital investment. The January numbers also reflect a decline in capital spending by the oilpatch, which buys $11 billion in equipment from Canadian manufacturers annually, he said.
The latest economic news from Statistics Canada was also poor. The country's GDP declined 0.2 per cent in November, with factory output down 1.9 per cent. There were declines in mining and oil and gas extraction as well. The drop in manufacturing came after two months of growth, with decreases most notable in machinery, fabricated metal products, and primary metal.