The director for industrial economic trends at the Conference Board of Canada, Michael Burt, is warning that Canada needs to act now to take advantage of the "unprecedented" economic opportunities now presented to the country's natural gas industry. Despite the rise of the United States as a new super-producer of shale gas, as a result of which Canadian gas production fell by 20 per cent between 2006 and 2013, the Conference Board sees Canada's future in liquefied natural gas (LNG) markets of Asia.
"The Asia-Pacific region," Burt wrote, "is the largest and fastest-growing LNG market in the world—this is the time to take advantage of it. In 2012, Asia-Pacific imports of LNG averaged 22 billion cubic feet per day (bcf/d), representing 69 per cent of the global trade. And Asian LNG imports are expected to rise to 45 bcf/d by 2025."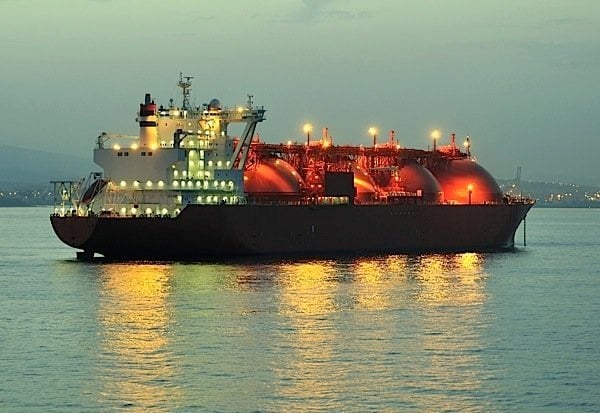 This market is particularly attractive to Canadian producers because of the price difference between North America and Asia. Asian benchmark prices are "three to five times" higher than in North America, more than enough to offset shipping and production costs here.
Canada needs to act quickly, however, as competition heats up. The US also has its eye on the Asia-Pacific markets, the same markets that could be Canada's. "B.C. would do well to jump-start its plans. If the Canadian projects are slow to be developed, they might never be realized and Canada could be left out, as other competitors establish themselves first."
Burt notes that multiple LNG export projects proposed for the BC coast are currently at varying stages of development and approval. If BC can quickly work out the regulatory and pricing risks associated with building LNG terminals, the province could see significant exports of LNG by "as soon as 2018."
One of those projects in development is the Triton LNG project backed by Japanese and Korean interests. The National Energy Board approved a 25-year export licence which would allow Triton to ship 320 million cubic feet of LNG a day (3,749,000 103m3 annually) from a floating liquefaction facility to be built. The NEB acknowledges in its letter granting the licence that "recent developments" in gas production in the United States have had a "major impact" on Canada, mainly lower demand for Canadian gas in the US.
The Australian advantage
Another major competitor Canada will have to contend with is Australia, which has the advantage of being close to the countries Canada wants to export LNG to, and perhaps a bigger advantage of having several major export terminal projects nearing completion and several others already functioning. Construction is underway on several huge LNG export terminals in Australia, with yet another one pending a decision, this one a Royal Dutch Shell proposed project. The Australian projects already have long-term sales contracts with Asian firms, including Korea Gas, Petronas (Malaysia), Kansai Electric of Japan, and China National Offshore Oil Corp, or CNOOC.
According to a Globe and Mail report, British Columbia has "a lot of promise," with fourteen LNG projects planned, but not much happening on the ground yet. Of the planned projects, Pacific NorthWest LNG project, headed by Petronas, is the most likely to proceed to construction on Lelu Island near Prince Rupert. Kitimat LNG, owned by the Canadian units of Chevron Corp. and Apache Corp is described as "promising."
A subsidiary of China's CNOOC signed an agreement with a unit of the UK company BG Group PLC to partner on the proposed Prince Rupert LNG terminal. That plant would have a capacity of exporting 21–29 million tonnes of LNG per year.
The BC government minister responsible for natural gas development, Rich Coleman, warns that the window of opportunity for the province's LNG industry will close in five to seven years.