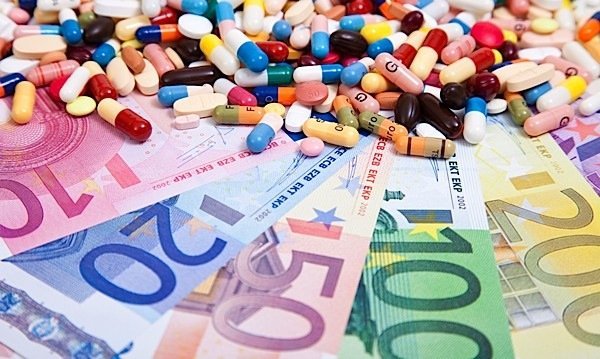 Shares in Quebec's Valeant Pharmaceuticals International surged on the Toronto Stock Exchange yesterday after the company released its second quarter earnings report, which surpassed expectations. Shares were trading at $341 per share, giving the company a value of $116 billion. This makes it, at least temporarily, the most valuable company in Canada, ahead of the Royal Bank of Canada at $106 billion. Valeant's shares have advanced 105 per cent this year. Earlier this year its value passed two other big banks, TD in May and Scotia Bank in February. Valeant is forecasting earnings per share to reach $11.50–$11.80 and revenues of up to $11.1 billion for 2015.
The company has had greater than 15 per cent organic growth—growth in output and increased sales—in four consecutive quarters. In the latest quarter, organic growth was up 19 per cent. Valeant CEO Michael Pearson is "certain" that double-digit organic growth will continue until the end of 2016. Total revenue for the second quarter was $2.7 billion, an increase of 34 per cent over last year. Even a $173-million loss on foreign exchange had barely any effect on the company's bottom line.
Valeant has also pursued an aggressive mergers and acquisitions strategy in recent years. Earlier this year the company acquired the specialist American firm Salix Pharmaceuticals Ltd. for $11.1 billion. Salix develops drugs and medical devices for treating gastrointestinal disorders. Its latest drug, Xifaxan, is for irritable bowel syndrome and was approved by the Food and Drug Administration in May.
Valeant also acquired eye care giant Bausch and Lomb of Rochester, New York, in May, 2013, for $8.57 billion. Other recent acquisitions include Medicis Pharmaceuticals, Solta Medical and Dendreon. Valeant has just announced that it intends to acquire Amoun, an Egyptian pharmaceutical company, for US $800 million. This will help Valeant expand in the Middle East and North Africa. The company also wants to expand in Latin America.
According to CBC news, only a few non-financial firms have held the top spot on the TSX's market capitalization ranking. These included the once powerful telecom giant Nortel, smartphone maker Blackberry (formerly RIM), the energy company Encana, and fertilizer company PotashCorp.
Most market analysts are rating Valeant stock as "buy" or "hold," according to Bloomberg. The company's business is not expected to slow any time soon. Health care stocks in general have outperformed all others on the TSX over the past year, up 118 per cent.