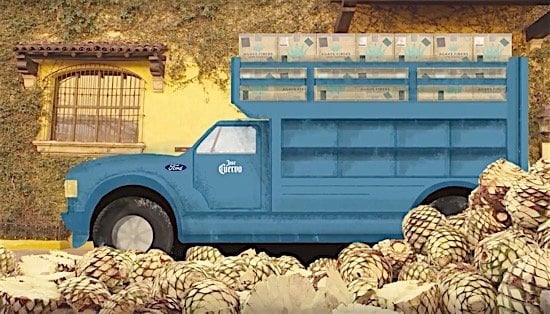 Normally, when the plant has been used for its commercial purpose of making tequila, the substantial left-overs of the agave plant are considered waste and, except for some that are used for compost, they join the estimated 5 billion metric tonnes of agricultural biomass that are wasted every year. That quantity could soon be reduced if a collaboration between Ford Motor Company and tequila maker Jose Cuervo works out as intended. The two companies announced that they will work together to develop sustainable bioplastics from agave fibres for use in Ford's vehicles.
The senior technical leader at Ford, Debbie Mielewski, said that using biomass-derived materials could potentially reduce the use of petrochemicals in Ford products, and help lightweight the vehicles as well. Lowering the weight of vehicles helps reduce energy consumption and lessens the vehicles' impact on the environment. It is estimated that every 10 per cent reduction in vehicle weight translates to a 5–7 per cent reduction in fuel usage.
According to Mielewski, the average car contains about 400 pounds of plastic. It's in the wiring harnesses, in the HVAC units, in the storage bins and in the mats on the floor. Typically, there are three main high-performance plastics used in the auto industry: polypropylene, used in bumpers, chemical tanks, cable insulation, carpet fibres and gas cans; polyurethane, used in foam seating, foam insulation panels, wheels and tires, suspension bushings, cushions, electrical potting compounds, and hard plastic parts; poly-vinyl-chloride (PVC) used in instrument panels, electrical cable sheathing, pipes and doors.
Besides these three, ten other plastics are used in everything from wheel covers to bullet-proof glass and headlamp lenses.
What Ford hopes to do is "find the right place for a green composite," like the one they expect to make from agave, in their vehicles. According to a statement from Ford, researchers are now testing the material, which is in the form of shredded fibres after the tequila-making process. Initial results are said to be promising in terms of the material's durability and aesthetic appeal. It will join eight other sustainable materials already being used in Ford vehicles, including soy foam, castor oil, wheat straw, kenaf fibre, cellulose, wood, coconut fibre and rice hulls. Just as plastic has revolutionised the appearance of car interiors and made car design and manufacture simpler, so this new green plastic has the potential to revolutionise vehicles from an environmental perspective.