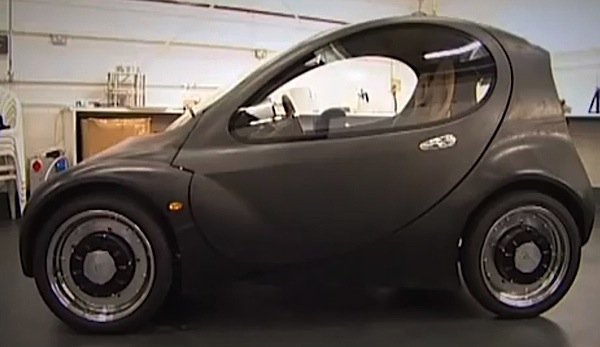 After nine years of development, a hydrogen-powered "Urban Car" was unveiled in London, England in 2009. Now, fifteen years on from coming up with the original concept, the Wales-based start-up company behind it, called Riversimple Engineering, says it is ready to put the car with its "disruptive" technology into production in the UK as soon as it secures the necessary government certification. The green company's stated goal is mobility at zero cost to the planet. The car was designed by Chris Reitz who also designed the Fiat 500.
The car is a two-seater powered by hydrogen fuel cells and with a body built of carbon fibre composite materials. Each wheel is equipped with an electric motor that recaptures energy during braking, known as regenerative braking. That energy is stored in super-capacitors and provides 80 per cent of the power needed for acceleration. Power-intense acceleration is "decoupled" from cruising, meaning that the fuel cell only has to provide enough power for cruising, "about 20 per cent" of the maximum power used in accelerating.
According to the technical director and founder of Riversimple, Hugo Spowers, their system allows the fuel cell itself to be much less powerful than in most other hydrogen cars being developed. The Riversimple fuel cell has an output of just 8kW, about one-tenth the output used in other versions.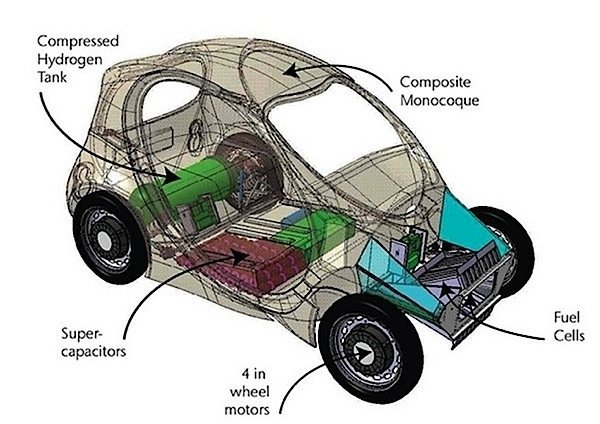 This means that the fuel cell will also be much lighter. With no gearbox or transmission, the powertrain is also lighter, which further reduces the amount of power needed. Spowers said they are aiming for a total vehicle weight of 520 kilograms. It will have a range of 300 kilometres and 0–80 kph acceleration in eight seconds. The only moving parts in the vehicle, according to Spowers, are the wheels. It requires no lubrication and there is no mechanical wear.
Interestingly, the company does not plan to sell the cars outright but lease them. Customers will pay a fixed monthly fee for the car and all the fuel, insurance and maintenance to run it, at a rate that's equivalent to the costs of running "a normal, average car," though the company doesn't say how that will be calculated.
For comparison, Hyundai is already selling a hydrogen-powered car, the ix35 FCEV. It sells (in the UK) for about US$80,000 (£53,015). Toyota also has a hydrogen car, the Mirai, that sells for around US$60,000, and BMW has said it plans to have one in mass production by 2020.