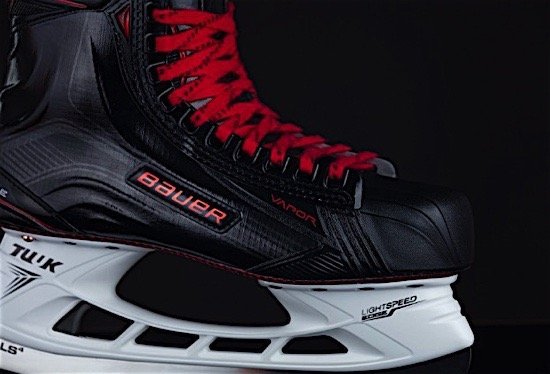 One of the world's most iconic sporting goods brands is returning to Canadian ownership. Established in 1927 as the Bauer Skate company in Kitchener, Ontario, the famous company has been variously owned by Greb, the US maker of Hush Puppies and Kodiak Boots, Montreal-based Canstar Sports Inc, Nike, Roustan Inc. and currently Performance Sports, based in New Hampshire. Performance Sports announced today that Sagard Capital, part of Power group of Montreal, and Fairfax Financial Holdings of Toronto, are proposing to buy the company's assets for US$575 million. The company filed for bankruptcy in the US and in Canada on October 28. The sale will be overseen by a Delaware bankruptcy court and the Ontario Superior Court. Together, Sagard and Fairfax already own just over 30 per cent of Performance Group.
In a statement about the deal, Performance Group CEO Harlan Kent noted that the deal was a testament to the buyers' confidence in the future of the business and its "great brands." That confidence must indeed be great, as North American sporting goods manufacturers face daunting challenges. Performance Group describes its own current fiscal position in stark terms. Adverse market and economic conditions as well as "customer credit issues" have had a significant impact on the company's sales. There has been a "significant downturn" in its baseball/softball products sales, while demand for its hockey products has fallen. A major customer, Sports Authority Inc., filed for bankruptcy earlier this year, striking another blow at the company's sales. As well, the unfavourable foreign exchange rates, the result of Canada's weaker dollar relative to the US currency, have taken their toll. In spite of cost savings, profitability improving initiatives and corporate restructurings, Performance Group admits that it has been unable to turn the situation around.
Why, then, do the Canadian investors want to buy it? According to Sagard Capital, it, along with Fairfax Financial, has developed a plan that will return Performance Group to "financial stability," preserve and grow the value of its franchises, and operate a "strong, successful business" over the long term. The plan includes debtor-in-possession financing, whereby the bankrupt company will continue to operate the business while it restructures.
The president of Fairfax Financial, Paul Rivett, commented that Performance Sports has, in its ninety-year history, developed the most recognized names in hockey, baseball and lacrosse, "wth a long-term commitment to quality and innovation." With the stability that Fairfax and Sagard can provide, Performance Group will continue focusing on innovating "the sports equipment that people around the world know and love."