Bombardier Aerospace announced today that its Signature Series™ Challenger 350 has officially entered into service. The first of the jets was ceremonially delivered to NetJets in White Plains NY, making NetJets the worldwide launch customer for the aircraft. The company, part of the Berkshire Hathaway group owned by Warren Buffett, has up to 200 Challenger 350s on order over the next ten years. Eight Challenger 350s are to be delivered to NetJets this year.
NetJets has placed orders for up to 670 aircraft with several manufacturers, all of them to fly as NetJets Signature Series. So far it has received thirty-eight of the new planes, including thirteen Bombardier Global 5000 and Global 6000. The order, a statement from NetJets says, was the largest purchase, at $17.6 billion, in private aviation history.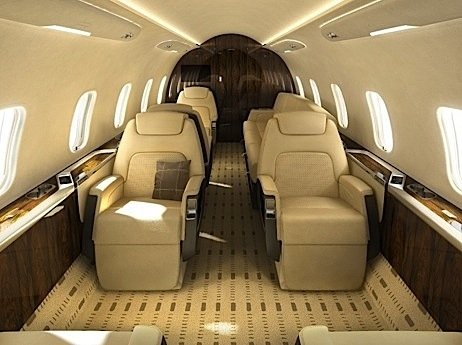 The Bombardier Challenger 350 is an upgraded version of the Challenger 300 business jet, designed, says Bombardier, "for the needs of NetJets customers." It has transcontinental range, able to fly New York–Los Angeles or London–Tel Aviv, and can carry ten passengers. The jet received certification from Transport Canada on June 12, and from the Federal Aviation Authority (FAA) in the US on June 25.
Unlike the Challenger 350, which was delivered right on schedule according to Bombardier, the company's other big development program, the CSeries, is delayed. An engine fire during testing has not yet been resolved, though the company insists it will not delay the new plane's planned entry into service in 2015.
The Transportation side of Bombardier just announced that it has signed a "framework agreement" with Railpool, a major European leasing company for rolling stock. The agreement is for sixty-five TRAXX locomotives. The contract is worth approximately $340 million US.