Demand is down again for automobiles in April, after an already weak March 2017. Overall, in April, numbers were down 5% for April 2017 versus April 2016.[1]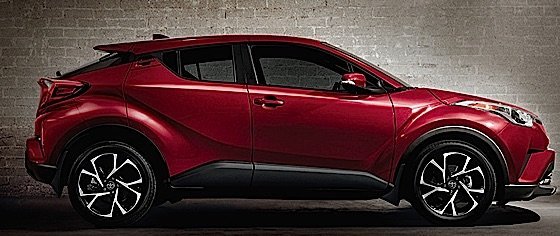 Demand overall is down, with the big automakers suffering the most (April 2017 over April 2016):
Ford down —7.4%
General Motors down —5.8%
Dodge down —2.6%
Toyota down —2.7%
Honda down —7%
In March, according to Motor Intelligence, passenger cars were down 11.5%, although trucks were up, netting light vehicle sales down 1.5%. [March 2017 numbers as chart below.][2] This marks the fourth monthly drop.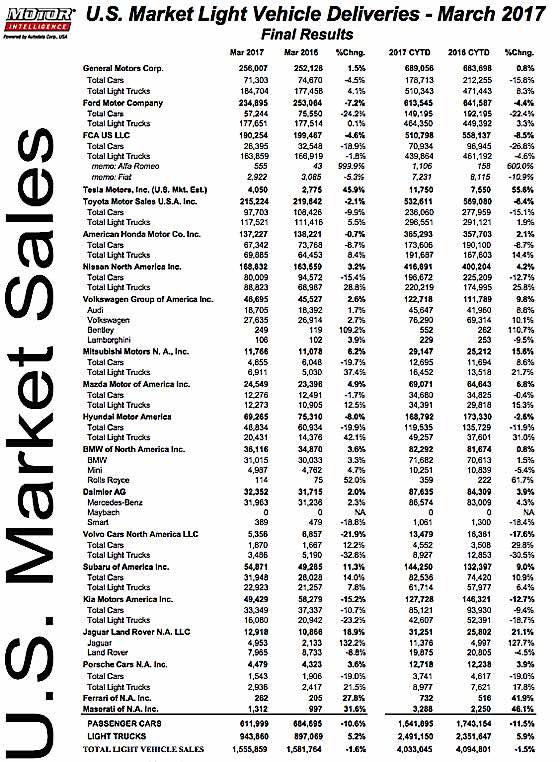 For Aprill, analysts had expected a drop of 4%. Demand for light trucks and SUVs remained better, but not sufficient to offset the drop in car numbers. Volkswagen is the only major brand to beat the overall declines, with a modest 1.6% increase, following on the heels of 5 previous months of gains. The VW-Audi brand is forecast to drop 0.4% however.

Within carmakers, individual brands fared differently. At Ford, the main Ford brand dropped —7.4% while the luxury Lincoln brand was only down marginally at —0.9%. Toyota flips that around, with Lexus, their luxury mark, down —11% while the main Toyota brand is down —3.5%
90-Day Inventory and Discounts
Although car companies shoot for 60 days or less inventory, the big car companies roll into April with 90-Day inventories on average. Spring is normally a "hot" time for car sales, but the manufacturers are coping with remaining 2016 stock. This should be positive for consumers looking for deals — discounts or zero-percent financing.

April shows that incentive spending per average vehicle was $3814 in April, which is a negative trend, up nearly $500 from last year in April. This represents above 10% of price as incentive spending, versus the more typical 7.5%-9% ranges. Declining demand and overstocked inventory should see more discounts in spring 2017.

NOTES:
[1] Calculated by Automotive News based on reports from manufacturers (Source Automotive News Data Centre).
[2] Reported by Motor Intelligence