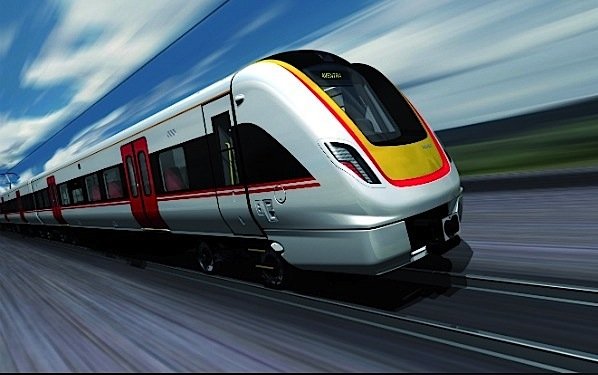 Bombardier Transportation, the rail division of the aerospace company, will build and maintain 180 new vehicles for Transport for London, the government body responsible for London's public transport system. The two contracts are for designing and building forty-five electric trains, each having four cars, and for maintaining the trains over a thirty-five-year service period. The contracts are worth over $600 million Canadian ($US 558 million). the contracts include options for an additional twenty-four trains and a five-year extension of the maintenance contract. The trains will be built at Bombardier's facilities in Derby, England .
The trains, known as AVENTRA EMUs (electric multiple units) will complement the existing London Overground fleet, whose trains were also built by Bombardier, and will feature optimized performance, according to Berlin-based Bombardier Transportation. The cars are 20 metres long and include walk-through carriages, air-conditioning and improved accessibility. Features will also include reduced weight, energy consumption and maintenance costs, and high reliability.
When the AVENTRA trains were introduced in 2011, Bombardier predicted an improvement in reliability of 68 per cent, and reduced net energy consumption of 46 per cent. Bombardier Transportation's president for Western Europe, Middle East and Africa said that the "important" contracts demonstrated Transport for London's continued confidence in the manufacturer's ability to provide "high quality transportation products."
Bombardier announced at last month's Paris Air Show that it had been named the preferred bidder for the London trains. The first deal with London was in 2007 and entailed fifty-seven trains for several suburban rail lines. Bombardier has delivered and maintains more of the UK's trains than any other manufacturer, according to Global Rail News.
The new trains are expected to enter service beginning in December 2017.