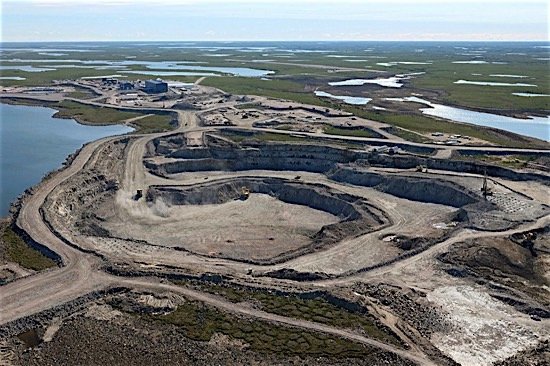 Two decades since it was discovered, and after an investment of about $1 billion in its development, the Gahcho Kué diamond mine is now officially open. Diamond giant De Beers announced the opening of the remote operation, 280 kilometres northeast of Yellowknife in the Northwest Territories, saying that it is expected to produce approximately 54 million carats of rough diamonds over its lifetime, making it one of ten biggest diamond mines in the world. The official opening was attended by De Beers and Mountain Province Diamonds executives, First Nations and Métis leaders, and guests from around the world. The new mine is a joint venture between De Beers and Mountain Province Diamonds, which has a 49 per cent interest.
Concerning the money spent so far on development of the mine, Kim Truter, CEO of De Beers Canada said in a statement that the company's employees, business partners and community partners had gone "above and beyond" to deliver this "world-class asset" ahead of schedule and under budget. The significance of the comment is made more obvious in light of the recent closing of another of De Beers'' mines, Snap Lake, just eighty kilometres to the west. That mine was closed in December, throwing 400 employees out of work. Said Truter, "It's really, really important that these mining operations are competitive." The problem with Snap Lake, the company's first mine outside Africa, was that it struggled to be competitive "from day one."
Gahcho Kué is expected to contribute $6.7 billion to the local economy over its lifetime of twelve years. The mine has already supported 2,700 direct and indirect jobs since 2015 and is expected to need another 530 workers to operate. It is the company's largest mine ever outside Africa.
Diamond jewelry value: global growth by main geography in US $ billion and percentage. Source; De Beers

In a report on the world diamond market (The Diamond Insight Report 2016), De Beers acknowledges that market volatility, including lower prices and market instability, is "here to stay" and growing. Consumer demand for diamonds is still growing in the US, however, which accounts for 45 per cent of the world's $79 billion jewelry market, but growth has slowed in China and declined in India. Markets are likely to continue to fluctuate, and consumer preferences will continue to evolve, the report says, while innovation by global luxury brands and "new online propositions" will increase competition for the industry.

In fact, it is largely up to diamond jewelry retailers to "innovate and invest" in order to keep diamonds "relevant" for consumers, De Beers says. Otherwise, new consumers could "move away from" diamonds in search of other "experiential or luxury categories" that are more relevant to them. Despite the slowing of Asian demand, De Beers sees positive consumer demand to continue in Asia as household wealth continues to increase.

An early twentieth century Cartier diamond necklace. De Beers says it is up to retailers to keep diamonds relevant for today's consumers.

As for consumer preferences, De Beers sees "retiring and elderly consumers" driving most global consumption of diamonds by 2030, while in the US the Millennial generation will be the largest age cohort. Consumers will become more knowledgeable and will push for ethical products with known provenance, wishing to eschew so-called "blood diamonds" from the world's conflict zones. De Beers says that all of its diamonds are ethically sourced.  According to De Beers, Canada is the world's third largest diamond producer by value, after Botswana and Russia, and the fifth largest by volume.