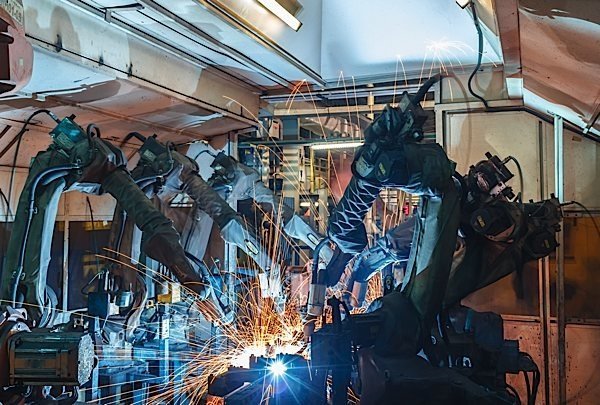 Lower production in motor vehicle plants and more than the usual number of maintenance shutdowns in crude oil refineries helped push Canada's manufacturing sales down 1.5 per cent in September, according to Statistics Canada. Manufacturing sales had been down 0.6 per cent in August. Thirteen of twenty-one industries reported lower sales, with the greatest decline seen in Ontario.
Factory sales in cars and trucks were down 10.3 per cent, to $5 billion, after four months of gains. August sales had reached $5.6 billion, the highest in more than eight years, Statistics Canada says. The auto parts industry also showed a slight decline of 0.1 per cent in September. The pullback in auto manufacturing was to be expected, after the previous several months of strong performance, according to some analysts.
Coal and oil registered the second-largest drop at 7.1 per cent, to $4.8 billion. Unlike the auto industry, coal and oil has been on a declining trend for four months now. Statistics Canada says that the September decline reflected a greater-than-usual number of partial shutdowns for maintenance at a number of refineries. Prices or petroleum products, however, were also down, declining 4 per cent.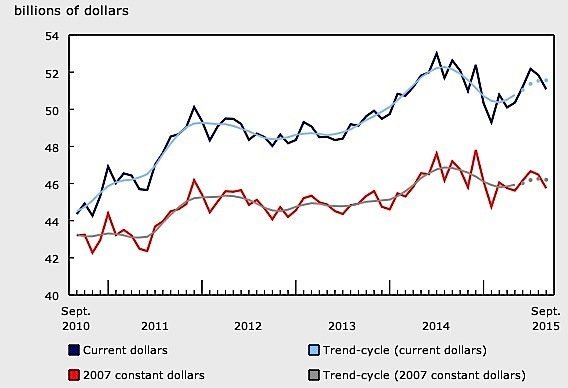 Both of these industry declines affected Ontario more than any other province. Ontario sales were down 2.5 per cent, to $24.4 billion. The decreases in the car assembly and petroleum products industries were partially offset by strong sales in machinery, which rose 13.1 per cent.
A drop in sales of aerospace products and parts contributed to a decline of 1 per cent in Quebec, while Alberta experienced a manufacturing sales decrease of 1.4 per cent, mainly due to falling coal and oil product sales.
Unfilled orders decreased by 0.7 per cent to $96.1 billion, as a result of a decline in the transportation equipment industry, and aerospace.
Canada is not alone in watching its manufacturing sector take a beating. New York State, which is already reporting November numbers, reported that factory sales contracted for the fourth month in a row, though they edged up slightly from October. The New York Federal Reserve's Empire State manufacturing index rose slightly from negative 11.4 to negative 10.7. US manufacturers, like their Canadian counterparts, have been hit hard by a constellation of factors including the economic slowdown in China, weak growth in Europe, and falling oil prices globally. The strong US dollar only adds to American exporters' woes.