Most of Canada's important industrial sectors increased their production in the third quarter. resulting in an annual growth in GDP of 2.7 per cent, Statistics Canada reports. This is virtually on par with the United States, where annual growth for the quarter was 2.8 per cent and is significantly higher than what had been forecast by the Bank of Canada.
Consumer spending, government spending and business investment were all up in the quarter.
Households spent more on housing, water, electricity, gas and fuels, insurance, financial services, and food and beverages. Notably, purchases of vehicles were down (0.6 per cent), after a gain of 4.2 per cent in the previous quarter.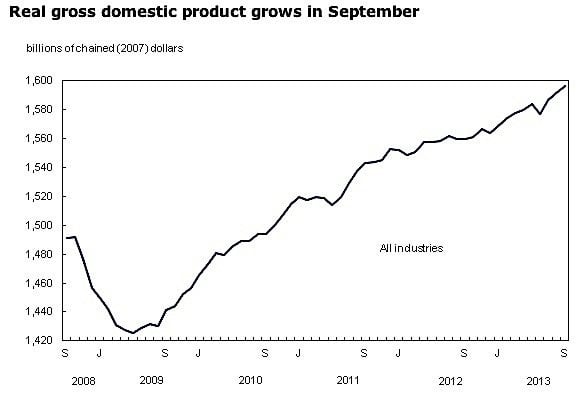 In the housing sector, resales and renovation activities were up, while new home construction continued to lag, dropping 2.9 per cent.
Businesses invested more in machinery and equipment, spending 2.2 per cent more on industrial equipment than in the previous quarter.
Exports of goods and services were down in the third quarter, following three consecutive quarters of growth. The biggest drop was in aircraft and other transportation equipment and parts (-9.1 per cent), followed by metal ores and non-metallic minerals (-6.3 per cent), and chemical, plastic and rubber products (-4.5 per cent). Exports of energy products, on the other hand, increased 2.8 per cent.
Looking at the month of September only, manufacturing grew by 1.1 per cent, after declining 0.4 per cent in August. The increase was mainly due to gains in manufacturing of transportation equipment, machinery and primary metal. Non-durable goods also grew, mainly food, plastic and rubber products, and chemicals. The increase in manufacturing was the largest contributor to the GDP growth for that month.
In the resources sector, mining, especially potash and coal, increased 0.2 per cent in September. Support activities for mining and oil and gas extraction also advanced, though oil extraction was in fact down. The drop in oil extraction is partly attributable to maintenance activities, Statistics Canada says. Natural gas production was up in September.
Transportation and warehousing services increased, on the strength of rail services and pipeline transportation of natural gas.
Demand for electricity drove an increase in utilities output (0.8 per cent).
Construction, meanwhile. was unchanged in September. A decline in non-residential building construction offset increases in residential building and repair construction.