Global aerospace company the EADS Group revealed today at the Paris Air Show an electric aircraft it has been developing with the French aerospace manufacturer Aero Composites Saintonge (ACS). The company has been testing a number of electric propulsion systems as well.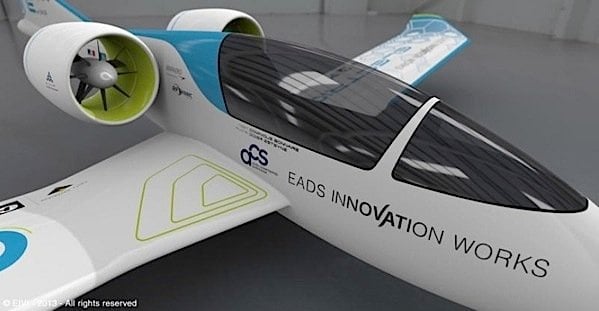 EADS first introduced a small all-electric plane in 2011, known as the Cri-Cri. Now, with the aim of developing low-emissions, non-fossil fuel-powered aircraft, EADS has taken another "strategic step forward" with an electric aircraft called the E-Fan. The E-Fan is a fully electric training aircraft developed by EADS and ACS, propelled by two electric motors. The motors are mounted on the fuselage and are powered by battery packs housed in the wings. It is the first electric aircraft to use ducted fans to reduce noise, the company says. Another innovation is in the use of electric motors in the landing gear for taxiing and acceleration for takeoff.
EADS is positioning the two-seater E-Fan demonstrator as suitable for pilot training in the future.
The use of electric-powered landing gear will be of considerable interest to airlines because of the great potential for saving fuel. Each airliner, over its lifetime, can travel around 200,000 kilometres on the ground. The conventional jet engine is not fuel-efficient for ground propulsion, and it is estimated that a large airliner could burn up to 5 million litres of fuel on the ground each year. Eliminating the need for that would save airlines millions in fuel.
EADS has also worked with Siemens and Diamond Aircraft to develop a hybrid electric glider.
In developing innovative new propulsion systems for aircraft, EADS is working to meet the aviation industry's environmental goals, which call for a 75 per cent reduction in aircraft CO2 by 2050, as well as a 90 per cent reduction in Nitrogen Oxides, and 65 per cent reduction in noise levels, all compared to the standards of the year 2000.