SMA Canada is to supply solar inverters as well as operations and maintenance (O&M) for a utility-scale solar power development just getting underway in Southwestern Ontario. The Grand Renewable Energy project is a component of the Ontario government's green energy strategy. The $5-billion plan between the province and Samsung Renewable Energy will see the creation of massive solar and wind projects that will produce 1,400 megawatts of power.
SMA Service will handle operational management of the 100-megawatt PV system when it goes online for a ten-year period. The company will begin delivery of the 130 Sunny Central 800CP-US inverters that will power the system early next year.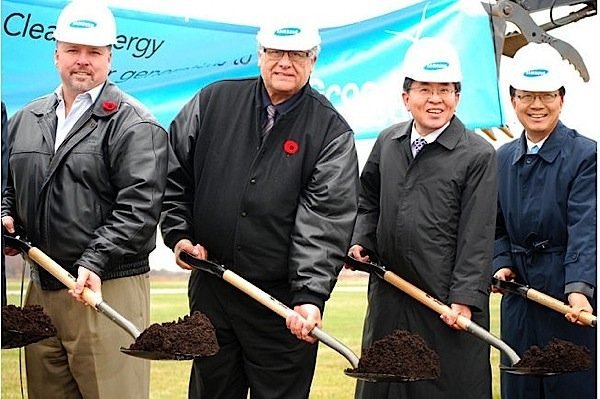 Solar inverters convert direct current generated by photovoltaic modules into alternating current that can be fed into the power grid. They also control yields and regulate the grid.
The solar portion of the initiative is being developed by Samsung and Canadian Solar, which is building a plant to produce and supply the solar panels. ABB Canada and Bondfield Construction are providing the equipment and engineering to install 120,000 foundations for the 450,000 solar panels that comprise the plant. ABB will be responsible for engineering, electrical installation, commissioning and performance testing of the plant. The Grand Renewable Solar facility will be one of the largest solar power installations in North America.
Two weeks ago, partners Samsung and Pattern Energy Group broke ground on the 150 megawatt wind portion of the development, known as the Grand Renewable Wind (GRW) project, which will consist of 67 Ontario-made wind turbine blades and towers. They will generate renewable energy equal to the needs of approximately 50,000 Ontario homes each year. The turbine blades will be manufactured at the Siemens' turbine blade facility in Tillsonburg, Ontario, while the towers will be built with Ontario-made steel at CS Wind's facility in Windsor.
Construction of the project is scheduled for completion in 2014, with as many as 300 workers during peak construction time.
The wind power generated at GRW will be sold to the Ontario Power Authority under a power purchase agreement.