Canada's largest private sector union, Unifor, is concerned that an imminent free trade agreement between Canada and South Korea, to be signed by Prime Minister Stephen Harper, poses a "serious threat" to Canada's auto industry. The agreement, according to a Unifor statement, fails to protect Canadian workers. A Unifor  fact sheet states that Canada can expect to lose 33,000 manufacturing jobs as a result of the free trade deal.
For one thing, the deal lacks a "snap-back" provision, which would allow Canada to re-impose tariffs to pre-agreement levels if the Koreans used other trade barriers to limit Canadian exports. The United States negotiated such provisions in its free trade agreement with Korea, but even with the snap-back, the balance has been in Korea's favour, says Unifor.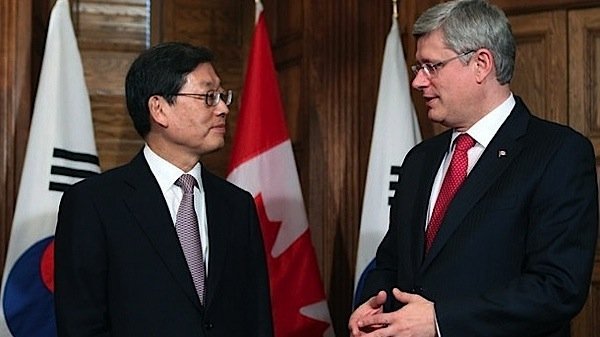 "We cannot stand by a deal that secures a one-way flow of  Korean auto imports into the Canadian market, undermining the jobs and industry on which so many Canadians depend, while precious little is done to strengthen our imports to Korea," said Unifor National President Jerry Dias.
Unifor says that there will be a three-year phased-in removal of Canadian auto tariffs on Korean vehicles and an immediate removal of Korean tariffs on Canadian exports. Ontario had wanted the 6.5 per cent tariff on Korean exports to be phased out over seven years, as was negotiated between Korea and the European Union. The labour union had also recommended several measures that it says would have ensured a more fair, mutually beneficial agreement between the two countries. One of these was to tie tariff reductions to "measureable targets" in reducing the existing trade imbalance in key industries such as auto.
"The problem is that Prime Minister Harper did not address the current trade imbalance.  We needed our political leadership to broker a deal that addressed the reality that we have 100 000 Korean-made cars being imported to our market, while we are exporting only 100 cars to the Korean market," stressed Dias.
The Ontario minister for Economic Development and Trade, Eric Hoskins, has said that removing the 6.5 per cent tariff on Korean autos imported into Canada will just mean more cars flooding in.
The CEO of Ford of Canada, Dianne Craig, has also condemned the free trade deal, warning that Korea is and will remain "one of the most closed automotive markets in the world" under this deal. Korea uses non-tariff trade barriers and currency manipulation to ensure its favourable trade balance with foreign trading partners.
Looking at the bigger picture, Canada's trade imbalance with Korea is almost two to one: Canada sold $3.7 billion worth of goods to Korea in 2012, but bought $6.4 billion from Korea.
As reported in the Windsor Star, Ontario now wants the federal government to establish a task force of industry and labour representatives to monitor and report on Korean car imports and any unfair trade practices associated with them.
A fact sheet prepared by Unifor shows Canada's auto imports from Korea at $2.6 billion in 2012 while Canada's auto exports to Korea that year were just $12.5 million. The number of Korean-made vehicles sold in Canada was "almost 100,000"; Canadian-made vehicles sold in Korea in 2012 were "under 100."