HDI Landing Gear, a subsidiary of Héroux-Devtek of Quebec, announced that it has signed a Memorandum of Agreement (MOA) with Boeing to supply landing gear systems for the Boeing 777 and 777X, contingent on launch of the 777X program. Following this agreement with Boeing, a multi-year contract is expected to be signed before the end of calendar 2013.
HDI Landing Gear will supply the main and the nose landing gear, and the nose landing gear drag strut. The MOA includes manufacturing parts for Boeing to sell in the aftermarket. Under the expected multi-year contract, deliveries would begin in early calendar 2017, with an option to extend the contract through 2028.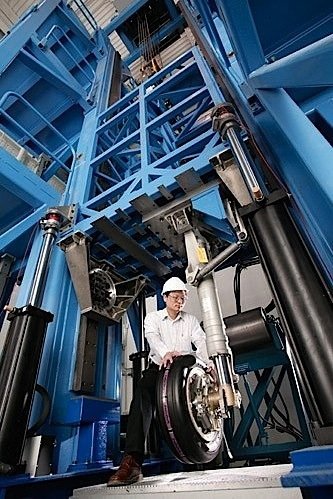 Héroux-Devtek said in a statement that the long-term Boeing contract would be the "landmark achievement" for the company, and the largest contract ever awarded to its landing gear operations. The work on a leading commercial aircraft program like the Boeing 777 "significantly enhances Héroux-Devtek's reputation and competitive position in the aerospace industry," the statement said.  According to one analyst at National Bank Financial, the deal with Boeing is "transformational" for Héroux-Devtek.
The wide-body Boeing 777 is the largest twinjet in the world, capable of seating up to 461 passengers and flying a distance of 17,370 kilometres. It has six wheels on each main landing gear. Its turbofan engines have the largest diameter of any aircraft engine. Boeing has sold 1,460 of its 777s so far, making it one of the most successful aircraft in the world.
There has been speculation about where the work will actually be done. The chief operating officer, Real Belanger, told the Canadian Press that the company is looking at all the possibilities and that they are planning to have jobs "for the majority of our sites that we have already. There is the possibility that the company could return to Mexico, which it left last year. HDI Landing Gear USA Inc. is based in Springfield, Ohio.
According to the release, Canada's Industrial Regional Benefits policy was a significant factor in Boeing's executing of the MOA with Héroux-Devtek. The IRB policy requires prime contractors such as Boeing to make investments in the Canadian economy as a result of winning defense and security contracts with the Government of Canada.