Toronto-based Magellan Aerospace Corporation (Magellan) announced that it has been awarded a contract worth $110 million from MacDonald, Dettwiler and Associates Ltd. (MDA) of Richmond, BC. Magellan is to build key components for the Canadian Space Agency's RADARSAT Constellation Mission (RCM). The RCM comprises three low- earth orbit spacecraft, each carrying a C-band Synthetic Aperture Radar (SAR) payload.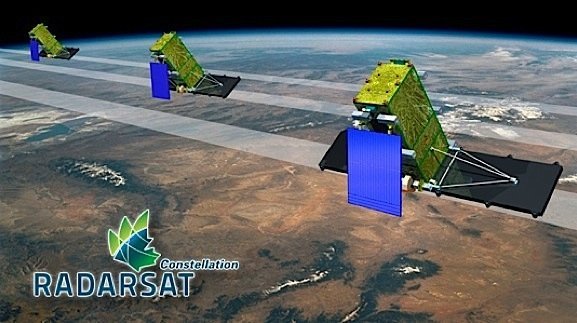 Magellan Aerospace will manufacture the infrastructure for the three spacecraft (buses), including the control systems, on-board computers, power generation and distribution systems, electronics, wiring, and on-board communication links with the ground. Magellan has previously had the contracts for Phases A, B, and C Preliminary and Detailed Design for the RCM. The new work will include the complete bus assembly, integration and testing. It will be done at the company's Winnipeg facility.
The Radarsat Constellation Mission, part of the RADARSAT program originally launched in 1995, will include three satellites originally, eventually including six in total. The Constellation is intended to cover all of Canada's land and oceans, providing vital services in the three key areas of maritime surveillance, disaster management and ecosystem monitoring. It is scheduled to launch in 2018 and will circle the Earth every 96 minutes, providing twenty-four-hour-a-day C-Band data that will augment the data already available to RADARSAT-2 users.
"RCM is one of the largest space projects that has been undertaken by Canada to date," said James Butyniec, President and Chief Executive Officer of Magellan Aerospace.  "Canada is one of the world's first space-faring nations and national programs like RCM are critical for keeping our domestic space technology capabilities relevant as well as providing benefits for Canadians."
Magellan Aerospace is a global, integrated aerospace company that provides complex assemblies and systems solutions to aircraft and engine manufacturers, and defence and space agencies worldwide. Magellan designs, engineers, and manufactures aeroengine and aerostructure assemblies and components for aerospace markets, advanced products for military and space markets, industrial power generation, and specialty products.