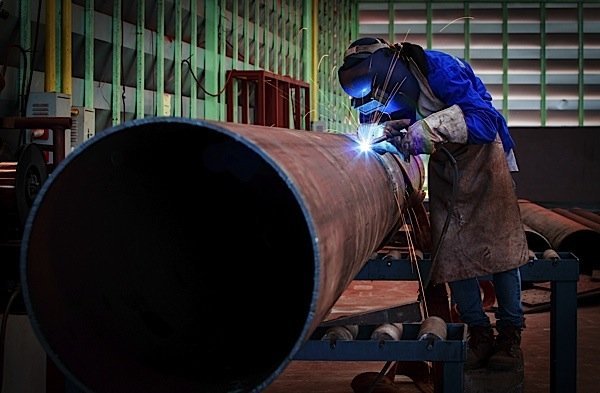 Canada's economy grew ever so slightly in August, with gross domestic product up 0.1 per cent. GDP rose 0.4 per cent in June and 0.3 per cent in July. The August growth were mainly the result of gains in manufacturing, mining, quarrying, oil and gas extraction, and retail trade, according to Statistics Canada. Annualized, the growth rate is 0.9 per cent from August 2014 to 2015.
Manufacturing output was up 0.4 per cent in August, after two consecutive months of 0.6 per cent increases. Chemical manufacturing growth was notable, as was the manufacturing of petroleum and coal products. Durable goods manufacturing grew 0.3 per cent, following a gain of 1.1 per cent in July. The main areas of gain were in wood products, computer and electronic products, and primary metals.
Retail trade rose 0.6 per cent in August following 0.3 per cent gains in July. Growth was seen in food and beverage stores, cars and car parts dealers, and in furniture and home furnishing stores. Wholesale trade, on the other hand, contracted 0.5 per cent, as machinery, equipment and supplies declined.
Other industries that saw growth in August included transportation and warehousing services, up 0.6 per cent on the strength of pipeline transportation and trucking. Utilities increased 0.8 per cent, with electricity generation, transmission and distribution, as well as natural gas distribution, up.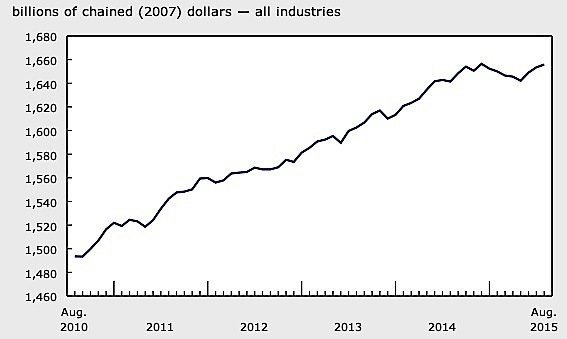 The August increase in oil and gas extraction was modest compared to the two previous months: 0.3 per cent after 2.6 per cent in June and 3.9 per cent in July. Support activities for the industry also rose 2.9 per cent.
The near-term prospects of the oil industry include more cuts and reduced profits, however, with many major players—Canadian Oil Sands, Shell, Cenovus—announcing big losses, layoffs and cancelations or deferrals of projects. The Conference Board of Canada says that the oil industry is poised to lose $2.1 billion this year despite companies having acted swiftly to cut expenses, delay capital investments, and reduce employment levels. Profitability has "plummeted," and the cost-cutting measures will not bear fruit until next year, when the industry is expected to return to profitability. Capital investment in Canadian oil projects is expected to continue, though at a slower pace than in recent years. Excess supply of oil will continue, keeping crude prices weak for the near term.