A new report on global auto sales from Scotiabank says that car sales reached record highs in February. The fastest growth was in Western Europe, followed by North America and Asia. Activity weakened in Eastern Europe, particularly in Russia, and in South America. In Russia, sales fell 38 per cent compared to one year ago.
In Canada, however, sales and shipments of cars surged, so much so that Scotiabank auto specialist Carlos Gomes spoke of its "reviving" the Canadian auto industry. Because of record sales and production across North America, he said, the auto sector is leading the manufacturing "resurgence" in Canada's industrial heartland. Momentum has accelerated in the opening months of 2015, Gomes said. Vehicle purchases in the United States climbed above an annualized 17 million units in March, a rise compared to the previous two months. As in the US, car sales in Canada are being bolstered by lower gas prices. Car sales in March reached 1.86 million (annualized) in Canada, a record for the month.
According to Scotiabank, Canada's auto industry is performing "at least in line with" its two North American partners, even though the sector has shrunk here ("undergone significant consolidation") since the turn of the millennium.
Last year's auto industry shipments were worth more than $86 billion, led by the auto parts industry. It was the first time in seven years that sales had reached that level. Shipments of auto parts saw a double-digit increase. Shipments at advanced assembly facilities, and at plants building trucks, buses and trailers were also up. Engine production was up 20 per cent, the biggest output gain of any sector.
Record auto sales and production across North America are reviving the Canadian auto industry, The auto sector is leading the manufacturing resurgence across the Canadian industrial heartland, is gaining market share globally, and momentum has accelerated in the opening months of 2015.

Carlos Gomes, Senior Economist and Auto Industry Specialist at Scotiabank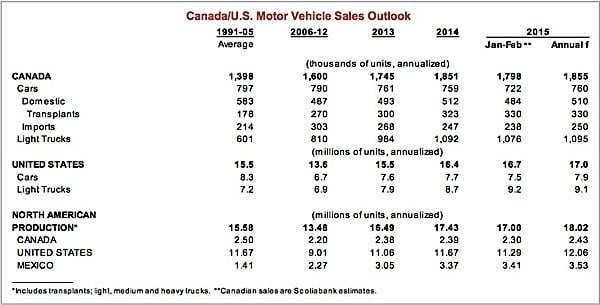 Together the auto and aerospace industries accounted for one-third of the increase in manufacturing shipments last year, "roughly double" their 18 per cent of overall manufacturing activity in Canada. The auto industry continues to "outperform" in 2015 with an 18.5 per cent year-over-year increase in shipments in January, and orders outpacing production. According to Scotiabank, the industry's order backlog is 30 per cent higher than a year ago and shows one of the highest growth rates in twenty years.
Auto parts exports last year accounted for all of the improvement in Canada's international trade deficit, which was reduced by nearly $1 billion. Those export gains have accelerated further in 2015, jumping 15 per cent compared to one year ago.
The Canadian auto parts sector outperformed its global counterparts, Scotiabank says, with exports nearly double the global average.
As well, capacity utilization in Canada's auto industry reached a record-high 95 per cent in 2014, the highest level of all sectors. It also indicates how "tight" conditions are across the North American auto industry. Industry payrolls also climbed 4 per cent last year.