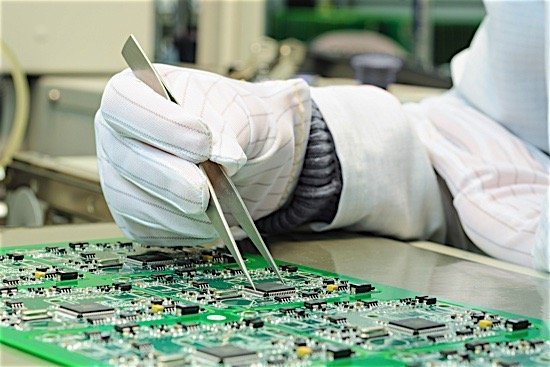 A new report from BMO Economics says that Canada's provinces have very different economic outlooks over the next year, with Alberta and Newfoundland and Labrador going further into recession, Saskatchewan barely returning to positive territory after a 1.4 per cent contraction in 2015, and BC showing real GDP growth of 3 per cent. Growth at the national level, meanwhile, will be a modest 1.2 per cent.
BC's current run of good fortune is the result of a diverse resource base that includes natural gas, base metals, forestry and little "direct exposure" to oil. Other strengths in the BC economy are agriculture, emerging momentum in knowledge-based industries, tourism and infrastructure investment.
Ontario, along with Manitoba and Quebec, will have growth above the national average for the third year in a row. Ontario's GDP is expected to see 2.6 per cent growth this year and 2.3 per cent in 2017, making it one of Canada's growth leaders. The main factors at work are strong US demand for exports, which is supporting manufacturing, the weaker currency, low oil prices and a strong housing market. The Ontario labour market is also performing well with employment up a "solid" 1 per cent year over year through August.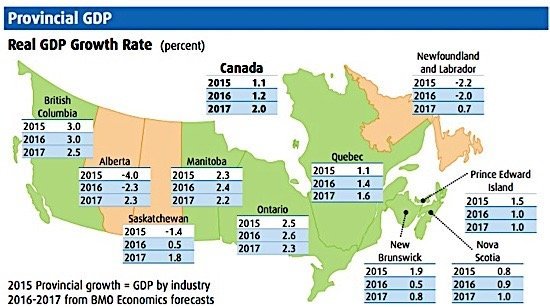 Manufacturers in southwestern Ontario continue to expand, according to the BMO Blue Book, and those companies that made it through the recession are starting to invest in expansion, buying equipment and space. High tech, meanwhile, continues to accelerate, particularly in the Kitchener-Waterloo-Cambridge region. The area is already established as a "world-class" high-tech hub, and the benefits of that status are "readily apparent." An increase in venture capital is beginning to be seen, welcome news, says BMO, to "upstart" companies in hardware, software and nanotechnology.
In manufacturing—one of the region's enduring industries—we are seeing those companies that made it through the recession starting to invest in expansion. They've started to buy equipment and better space. The current low interest rate environment is clearly having an impact, with owners taking advantage. It's clear that the most successful firms are those that chose to invest in productivity over the years; while there's room to do more, we know that success lies down this path.
The Greater Toronto Area is a driver of both the provincial and national economies, and there is "a lot of excitement" in the GTA's business community, encouraged by strong opportunities across a number of sectors. The region's traditional strengths—finance, professional services, and the companies that support them—continue to flourish.
The most exciting growth, however, can be found in infrastructure. A number of commercial enterprises are supporting the region's "significant" infrastructure growth, from the development of roads, bridges, rail lines, schools and more.
Meanwhile, the wide range of sectors that drive the GTA economy is showing impressive strength. As Canada's largest technology hub and the third largest in North America, Toronto has 15,000 technology companies, 3,300 tech facilities and up to 4,000 active startups.
Manufacturing in the GTA, has been particularly dynamic of late, particularly manufacturers that produce specialized products for the tech and food industries, which are positioned well moving forward—good examples of growth include specialty gloves, sensors and food packaging products.
Finally, the importance of new Canadian entrepreneurs "cannot be overestimated," BMO says. Active entrepreneurs are opening businesses in diverse industries, including transport, hospitality and real estate.