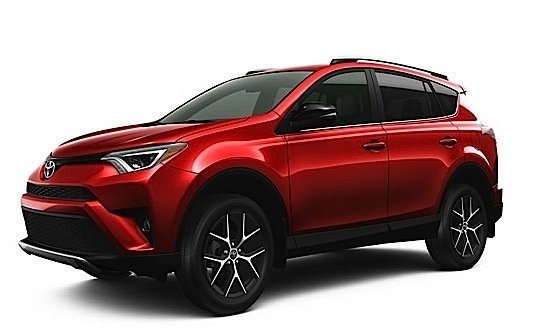 The "mid-sized, higher-value vehicles" that Toyota promised to make at its Cambridge, Ontario plant last spring when it announced the end of the Corolla's run there will be the RAV4 and a hybrid version of it. Toyota made the announcement today, saying that its Canadian subsidiary would become a "hub" for the manufacture of sport utility vehicles. The RAV4 is already made in Ontario, at the company's Woodstock plant. Also made in Ontario is the Lexus RX SUV.
Toyota will invest a "significant" amount in its Cambridge plant to prepare it for production of the RAV4. The makeover will include the introduction of Toyota's New Global Architecture (TNGA) platform, a process that uses standard parts across multiple vehicle models and seeks to improve quality in the production produce. Toyota Canada president Brian Kinrock said that having the new platform and the latest technology will give the company the flexibility to respond to the "evolving needs" of the marketplace. It will also take the company to the "next generation" of automotive manufacturing. The move also demonstrates the company's commitment to employment stability, he said. The company currently employs 8,000 people at its three Ontario plants.
According to Toyota's North America CEO Jim Lentz, the RAV4 is a leader in the fastest growing segment of the industry, and Toyota forecasts that the strong growth in the segment will continue, with the RAV4 a "major player." More than 220,000 of the vehicles are currently made in Ontario, not enough to satisfy demand in North America.
Lentz said that producing "more upscale, more complex, higher content vehicles" like the RAV4 is a good fit for the Ontario plant, with its "well-earned reputation for quality." The project will be implemented in 2019.
Toyota Canada has been enjoying record sales this year. The company announced the sale of 19,174 vehicles in Ontario, a year-over-year increase of 6.7 per cent and its best October sales ever. Sales of the luxury Lexus were up 29.4 per cent, the thirteenth consecutive month of record-breaking sales. The company said it has already surpassed last year's total sales, with two months yet to go. RAV4 sales were up 14.9 per cent in October (4,355 units) and year-to-date sales stood at 35,575 units at the end of the month. That is also a 14.9 per cent increase over last year's sales.