Industry Minister James Moore reminded CEOs of Ford, Honda and Toyota that Canada is a good place to build cars. This is the same message that was preached at Linamar earlier this week when two levels of government gave the Guelph auto parts maker $100 million. The money, half loan and half grant, goes with Linamar's own commitment of $400 million, to be spent on research and development and expansion of its transmission-building capacity.
Moore was speaking at the North American International Auto Show in Detroit. Moore said that Canada was the most attractive country in the world for investment by auto makers because of its $2.3 billion Automotive Investment Fund (AIF) and because of Canada's trade agreements with many countries, including the European Union, which will give Canadian businesses access to over half the world's markets.
Moore said that he was confident more investment would be coming to Canada, in addition to the Linamar investment and several others already announced or expected, including $2 billion from Chrysler for its Windsor minivan assembly plant. He did not announce any specific new investment.
While the promise of more investment is good news, applauded by the auto workers union, Unifor still wants to see the federal government articulate a "comprehensive auto investment strategy," rather than what it calls the current ad hoc approach. The Canadian auto industry has lost more than 50,000 jobs since its peak years, with jobs migrating south to Mexico and the southern states.
The industry in Canada is in good shape in terms of sales if not production. In the past year, car and truck sales set a new record, breaking the previous record set the year before. Among the big three Detroit automakers, Canadian sales reached more than 1.85 million in 2014, the majority of them trucks. Ford and Chrysler both had their best sales in years, followed by GM.
As many industry observers have said, the global auto industry is undergoing a number of important changes as cars become more and more sophisticated electronically and more fuel efficient. More research and development than ever is required, and more of it needs to happen in Canada.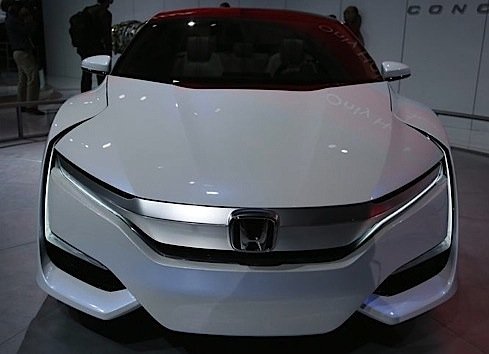 Trends that will drive auto development in coming years include the search for a fully autonomous, or driverless car. Google has one, and Nissan has one, but neither is ready yet for mass consumption. Nissan has declared that it will have a driverless car on the road by 2020. Some of the intelligent technology needed for driverless cars is already turning up, including self-parking and onboard radar that can warn a driver of a collision before it happens.
Another key trend to watch is the continuing development of greater connectivity, with a whole range of Internet and telecommunications services built into the dashboard. the kind of intelligent technology already appearing in cars to warn drivers of potential collisions.
The quest for greater fuel efficiency and new propulsion systems continues as well. Though oil prices may fall, government regulations on emissions do not. Honda revealed its new next-generation fuel-cell car in Detroit yesterday. Honda said the FCV Concept car, fueled by hydrogen, will have a driving range of 300 miles when it is introduced in 2016.