Currently, as I write this, the Immarsat-5 Flight 4, livecast via YouTube (below) is at an altitude of 166 km and a speed of 21,844 km/hr, according to the stage 2 Telemetry in the stream window. The slick professionalism of the entire SpaceX venture makes it believable that they will be the first to people man on Mars.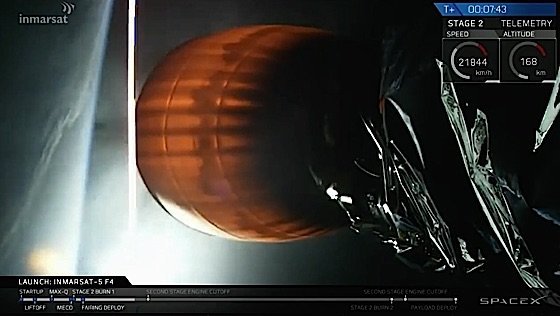 Space Exciting Again
SpaceX has made space exciting again, with a long series of serious innovations. At the same time, as here, with Immarsat-5 Flight 4, SpaceX delivers the payload. [1]

The mission will deliver a commercial communications satellite, to a Geostationary Transfer Orbit (GT0). This, in itself, isn't particularly exciting. What is thrilling, is to follow the steady flow of innovation, commercially viable invention that has kept the promise of space exploration and commercialization alive. Despite a few setbacks, SpaceX delivered the first vertical lander vehicle, the first landing at sea on a platform, and is developing the world's most powerful rocket with a view to an astonishingly ambitious Mars mission — that from any other company or agency might seem like science fiction.
SpaceX Practicality
It used to cost $18,000 to transport 1 kilogram of weight into space using the now decommissioned NASA Space Shuttle. Today, SpaceX, using the Falcon 9, can deliver the same payload for $2,700 — making it an affordable and practical solution.
Elon Musk, the visionary behind SpaceX sees a time when the cost to deliver payloads must be reduced exponentially — especially if man is to land on Mars.
Dragon V2 manned spacecraft
In 2014 SpaceX unveiled it's Dragon V2 manned spacecraft, which can land vertically on three legs. At the press presentation, Elon Musk, said, "That is how a 21st century spacecraft should land!" to cheers from reporters.
Aspiration: Mars Mission
The big goal for Elon Musk is not just the first manned mission to Mars — but ultimately the colonization of Mars.  In a 2016 video he explained why:
"We now believe that Mars was once like earth and that if we could warm up Mars, we could once again have a thick atmosphere and oceans."
Practicality is where Elon Musk's vision comes in. "It is a bit tricky, because we have to figure out how to improve the costs of trips to Mars by 5 million percent…. It sounds virtually impossible, but I think we can do it."
Elon Musk on the Mars Mission:
Given SpaceX's practical innovation methodology, it would be reasonable to assume they have the best chance to reach Mars in our lifetimes.
Not just reach Mars, but actually offer passage to Mars. Elon Musk aims to offer roundtrip passage to Mars for about $500,000. What will you do there, once you arrive? Hopefully, by then, they at least have a habitat built.
"How Will Space X Get Us to Mars?" (Video)
NOTES
[1] Details of Inmarsat-5 Flight 4 as announced by SpaceX prior to launch: "SpaceX is targeting launch of Inmarsat-5 Flight 4 from historic Launch Complex 39A (LC-39A) at NASA's Kennedy Space Center in Florida. The 49-minute launch window opens on Monday, May 15, at 7:21 p.m. EDT, or 23:21 UTC. A backup launch window opens on Tuesday, May 16, at 7:21 p.m. EDT, or 23:21 UTC. SpaceX will not attempt to land Falcon 9's first stage after launch due to mission requirements."