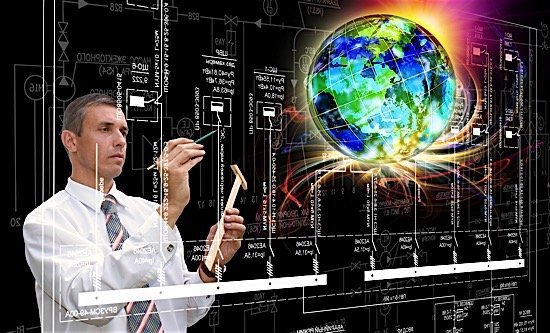 Two researchers at Ryerson University's Brookfield Institute have found that Canada's high-tech sector is larger, more profitable, and more important to the economy than previously thought. In their study, "The State of Canada's Tech Sector," the authors use an expanded definition of the information and communications technology (ICT) sector, one which includes industries that rely heavily on high-tech innovation and use, from aerospace to pharmaceuticals.
Creig Lamb and Matthew Seddon concluded that ICT was directly responsible for $117 billion or 7.1 per cent of Canada's economic output in 2015, greater than that of the finance and insurance industry. In all, 864,000 Canadians were employed in the tech sector, representing 5.6 per cent of total employment in the country. Tech employees earned approximately $67,000 a year, well above the national average of $48,000, and a greater number of tech employees were university educated (50 per cent) than in the national labour force average of 29 per cent. The tech sector invested more in research and development than any other private sector investor, spending $9.1 billion in 2015. Tech firms are also more likely to be profitable than firms in other sectors.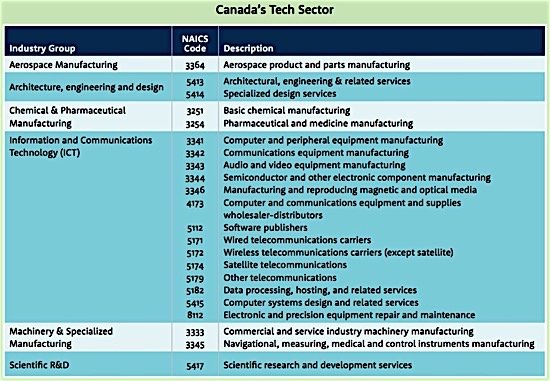 The broader definition of ICT, which the authors say gives a "pan-Canadian" definition of the tech sector, has been expanded to include those industries that are "users and developers" of high technology, measured by employees' use of science, technology, engineering and math (STEM) knowledge to perform their main duties; the amount of R&D undertaken; the strong understanding and use of high-tech equipment; and the extent to which they produce high-tech outputs. Based on this definition, six industries qualify as belonging to the "tech sector." These are ICT; machinery and specialized manufacturing; scientific R&D; aerospace manufacturing; chemical and pharmaceutical manufacturing; and architecture, engineering and design.
While a large amount of money is spent by the tech sector on R&D, that does not necessarily translate into higher productivity. In fact, the tech sector was found to have relatively low productivity levels, well below traditional industries like mining, utilities and retail trade, and only slightly higher than agriculture, construction and manufacturing. This can be explained, according to the authors, by the "disproportionately" small size of most tech sector firms. There is evidence, they say, that shows a link between a firm's productivity and its size. The larger the firm, the more productive it tends to be. Tech firms across Canada are usually small; in 2015, 68.8 per cent had four or fewer employees.
What it lacks in productivity, ICT makes up for with an "exceptionally" innovative record. Based on R&D spending, as well as whether a firm has been directly involved in innovating a new product or process, ICT comes out far ahead of other industries. Only the manufacturing industry rivals ICT in product and service innovation, though manufacturers spent less on R&D.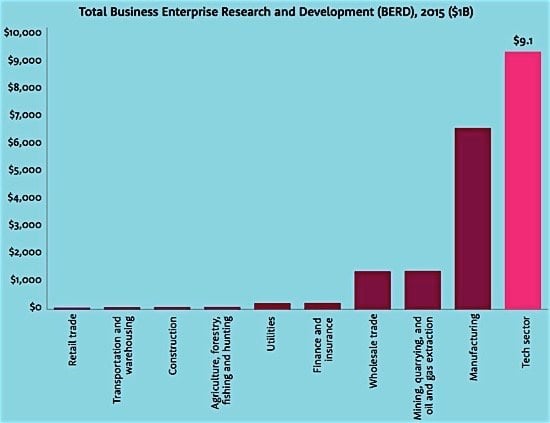 Despite the overall positive picture of Canada's ICT sector, there is reason for concern. When compared to other countries, Canada does not do terribly well, scoring low among the member countries of the Organization for Economic Cooperation and Development (OECD). Canada ranked twentieth out of twenty-nine countries in terms of value added to the national income (2013). Tech powerhouse South Korea, the top-ranked OECD country for ICT, derives about three times more economic value from its high-tech sector than Canada does.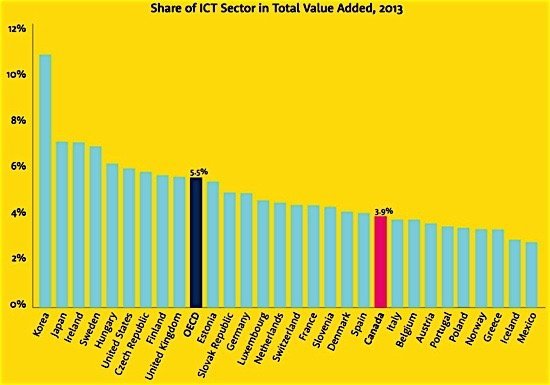 The two Canadian cities with the highest concentration of tech sector firms are Montreal and Toronto, followed closely by Kitchener-Waterloo, Ottawa, Calgary and Vancouver. The tech sector stands in the centre of the big five private sector employers in Toronto: construction, finance, tech, manufacturing, retail. Tech employs 286,000 in Toronto.