Aerospace is a growing, highly innovative, research-intensive, highly skilled industry in Canada, and it is set to grow even more rapidly in the next six years as it enters into the lucrative global large jet market. This is according to a new State of the Aerospace Industry report released by the Aerospace Industries Association of Canada (AIAC), in partnership with Industry Canada. The industry encompasses civil and defence activities, including maintenance, repair and overhaul (MRO) as well as the manufacture of space systems, including satellites.
Two-thirds of aerospace revenue today is derived from commercial aircraft and rotorcraft production, and aircraft structure-related activities. Business jets are the main sources of aircraft production revenue. However, Canada is expected to enter the much bigger large jet market in 2015 with the Bombardier CSeries jets. Large jets account for 76 per cent of global aircraft production. Large jet production is forecast to generate "close to 20 per cent" of aircraft production revenue in Canada by 2021.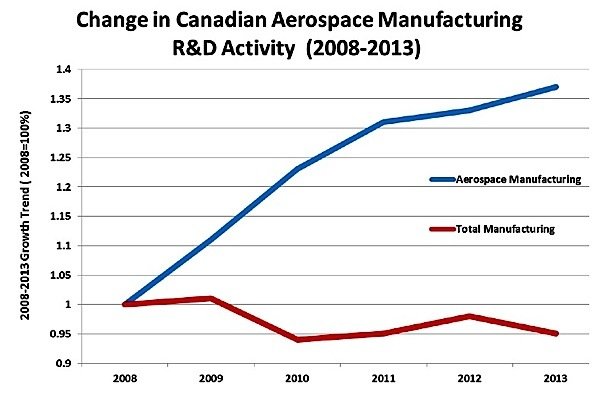 The report says that "leading independent international research firms" rank Canada third in the world in terms of civil aircraft production revenues, and it is expected to grow twice as fast as the global market between now and 2021.
In 2013, there were 172,000 jobs in aerospace, in more than 700 companies, and the industry contributed nearly $28 billion to the Canadian economy. Most of the industry's activity is manufacturing (70 per cent), the remainder being MRO. The majority of the manufacturing is done in Quebec and Ontario.
It is also one of Canada's most R&D and export-intensive industries, spending $1.7 billion annually, five times the manufacturing average. More than 50 per cent of those working in aerospace are engineers, researchers, scientists and technicians. Nearly 80 per cent of aerospace products are exported.