Ontario's building industry has been quick to offer congratulations to Kathleen Wynne on her election victory last week, taking the opportunity to remind the premier of some of the builders' main areas of concern. The president of the Building Industry and Land Development Association (BILD), Bryan Tuckey, said in a statement that he and BILD members looked forward to "continuing our work" building communities across the GTA.
The brief BILD statement specifically mentions the government's Growth Plan, which BILD has often criticized in the past for its emphasis on intensification. Home builders have said that the government's intensification goals limit the amount of land available for single-family homes. This has led to far fewer homes being built in the GTA since the plan went into effect. Nevertheless, the BILD statement promises that its members will continue to work "on successfully implementing" the Growth Plan. The statement also mentions that it wants to preserve the Ontario Municipal  Board, and to work towards amend the Ontario Building Code so that it allows six-storey wood-frame construction in the province.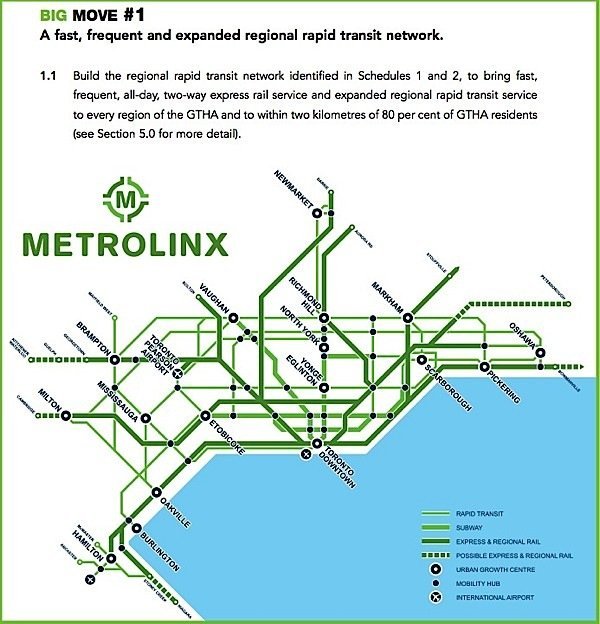 The head of another big construction organization, the Ontario General Contractors Association (OGCA), also praised the result of the election, saying that it means many opportunities for the construction industry. David Frame said in a piece in the Daily Commercial News that a majority government "gives stability" that allows the government to move forward with its priorities. One of the most prominent, and controversial, of those priorities is infrastructure. The Liberal budget, whose defeat in April precipitated the June 12 election, had earmarked $29 billion for transportation infrastructure over ten years. About half of that, $15 billion, is to go to transit projects in the GTHA, the remainder to roads and other work outside the GTA. Premier Wynne has promised to reintroduce that same budget within twenty days of the election.
"They have made very important commitments to infrastructure and particularly transit and that's a huge area for us. It's important that agenda has now been set and we can move forward with it," said Frame.
The Liberal budget also promised to increase the number of apprentices training in Ontario, a promise that the Progressive Contractors Association of Canada (PCA) also supports. Unlike their OGCA counterparts, however, the PCA would like to see an end to the Ontario College of Trades.
And the Ontario Home Builders Association added its voice, saying that it looks forward to working with the Liberal Party, with which it has built a strong relationship.