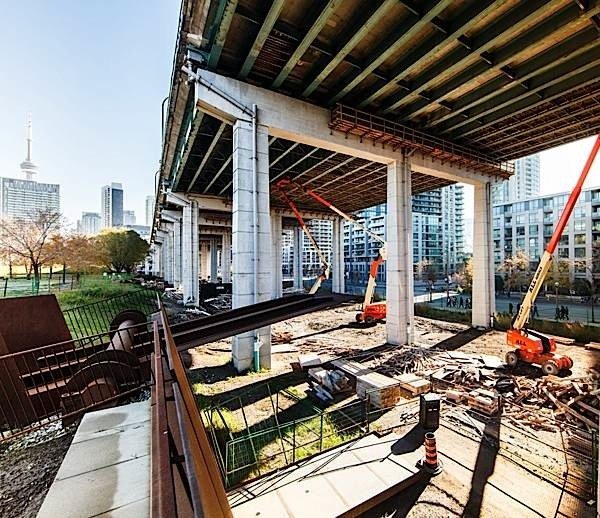 Waterfront Toronto has hired a San Francisco real estate developer to replace retiring president John Campbell. The board of directors announced the appointment of Will Fleissig as the new president and CEO of the corporation today. He will take over from Campbell in January.
According to the statement released by Waterfront Toronto, an international search has been underway for the past year. Fleissig is described as having over thirty years' experience in real estate development, urban design and planning, finance and environmental stewardship. He is currently the president of Communitas Development, a real estate development company that "leads and advises" on community-oriented urban developments. He has worked on mixed-use, large-scale urban projects in several US cities, including San Francisco and Los Angeles. Communitas works actively with communities in which it works to generate "expanded" social, environmental and economic benefits.
Waterfront Toronto is funded by the governments of Canada, Ontario and the City of Toronto. It was established in 2001 to oversee the renewal of the city's waterfront. According to WT's most recent Corporate Responsibility and Sustainability Report, it has invested almost $1.2 billion in parks, transit, flood protection, roads and utilities, and community education and health facilities since 2001. The most recent high-profile projects to reach completion were the long-awaited revitalization of Queen's Quay, which cost $129.9 million, 38.3 per cent above the original cost estimate of $93.2 million, and the Athletes' Village constructed for last summer's PanAm/Parapan Games. Upcoming projects include the redevelopment of the Toronto Island ferry terminal, to be named Jack Layton Ferry Terminal.
Ongoing projects include the massive East Bayfront area. Spread over 23 hectares (55 acres), East Bayfront will become a mixed-use fully planned, intelligent community for approximately 6,000 residents and millions of square feet of employment space. The re-routing of the Don River from the Keating Channel to the new Lower Don Lands neighbourhood is one of several other large-scale projects yet to be begun.