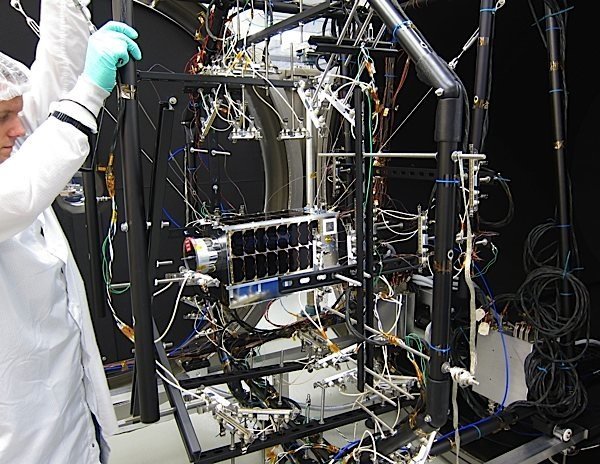 A Montreal company called GHGSat says it has a solution to help solve one of the world's most pressing problems: climate change. GHGSat is ready to launch a tiny satellite that can monitor the greenhouse gas emissions of specific industrial facilities and projects anywhere in the world, from oil sands in Alberta to coal mines in China. The satellite, named CLAIRE, has been in development for two years and has now passed final clearance tests for launch. A launch date has been set for April, 2016, on an Indian rocket at the Satish Dhawan Space Centre.
The satellite is being pitched as a way for companies and producers in the energy industry, as well as for regulators, to monitor and manage how much CO2 and methane they emit. This becomes increasingly important as the cost of emitting is increasingly charged to the emitters through carbon taxes or cap and trade costs. "If we can give them better data to manage their emissions, then they can control them better, and they can ultimately reduce them," said GHGSat president Stéphane Germain.
Because of "orbital dynamics," it will take about two weeks for CLAIRE to "see" a given point on Earth and then return to that same point. This means the emissions at that point can be measured every two weeks. The satellite uses sensors that detect the unique "fingerprint" of the gases, seen as different colours and degrees of brightness as the gases absorb light.
The satellite was developed with a team of partners including Xiphos Technologies, the Space Flight Laboratory at the University of Toronto's Institute for Aerospace Studies, and MPB Communications. The Boeing Company also provided GHGSat with expertise in systems engineering and space vehicle design and integration as part of the company's commitment to small business innovation in Canada. Germain said in a release that they are bringing technological innovation in the aerospace industry to the "fight against climate change."
According to a statement, final satellite testing at the component subsystem and system levels included thermal vacuum tests, and vibration tests to simulate the loads that the satellite will experience during launch. System performance was validated using NASA satellite data, laboratory tests and end-to-end simulations.
A Kickstarter campaign was launched to raise $100,000 for funding demonstrations of CLAIRE. Each demonstration will measure CO2 and methane at a site for one year. The company says that four oil sands operators in Canada have already signed up for demonstrations.