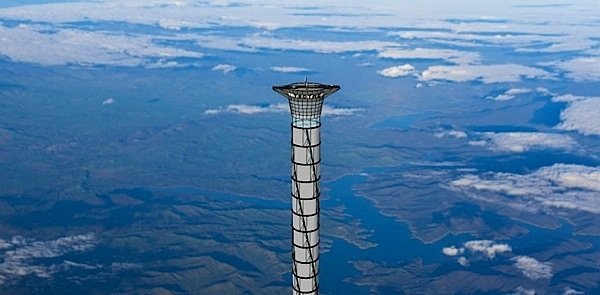 An Ontario space technology company recently secured patent protection in the United States and the UK for its revolutionary new space elevator concept. Thoth Technology said its tower would rise to a height of twenty kilometres, more than twenty times the height of the world's tallest structures today. It would be used for generating wind energy, communications and tourism, but the use that has caught the public's imagination is its use for accessing space.
The inventor of the tower said that astronauts could ascend to the top of the tower by elevator. From the platform on top, they would launch into orbit in single-stage rockets, returning to the platform for refueling and relaunch. The president of Thoth, Caroline Roberts, said that the patent is for a stabilization system to prevent the super-tall structure, the brainchild of Dr. Brendan Quine, from blowing over.
The tower is to be built of Kevlar panels and pressurized air or other gas, such as hydrogen. When inflated to a pressure of 100 times the Earth's atmosphere, the Kevlar would have great strength, but remain lightweight. Quine told CTV news that his concept has been available for five years, and so far no one has found any serious flaw in the design.
Apart from the space launch capabilities, such a tower could have enormous benefits for communications, even supersonic travel. Tourism could also be a big winner. Roberts envisions taking people to the top just to admire the spectacular view—from twenty kilometres up one can see 1,000 kilometres in all directions. The curvature of the Earth and the darkness of space would be plainly visible, without the weightlessness of space. At $1,000 a trip, space towers like these could be quite profitable.
The Thoth space tower is unlikely to be ready for launching anything for at least twenty years, however. The company is hoping to work with companies like Google and SpaceX to bring it to reality. The first step will be building a 1.5 kilometre prototype tower. That is estimated to cost $1.5 billion. One advantage is that the technology already exists. Roberts believes the prototype is achievable within five years.