Bombardier Aerospace announced that its newest business aircraft, the Learjet 85, has successfully completed its long-awaited maiden flight. The all-composite jet took off from a Bombardier facility in Kansas and flew for more than two hours, reaching an altitude of 9,144 metres and an air speed of 250 knots (463 km/h;). All flight controls were exercised with the systems and aircraft performing as expected, the statement from Bombardier said. It was a "proud and thrilling moment" for all Bombardier employees, said Eric Martel, president of Bombardier Business Aircraft.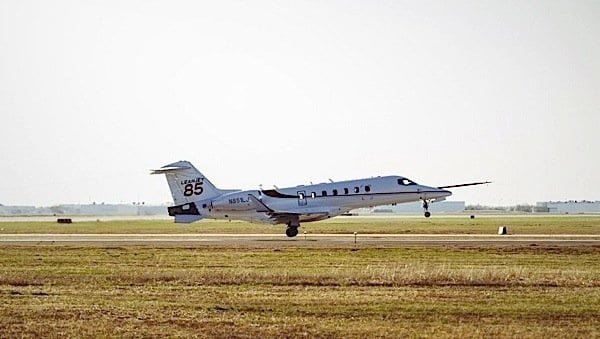 A second flight is expected to come soon. The jet had been scheduled to enter into service this summer, but that date has been pushed back as a result of delays. The aircraft must still go through the process of certification.
The Learjet 85 is built almost entirely of carbon fibre and other advanced materials, including the wing, instead of the traditional aluminum. This is said to be a first for a business aircraft. An industry observer, Brian Foley of Brian Foley Associates, told the Montreal Gazette that the entire aerospace industry is moving in that direction. Though more costly in the beginning, it ultimately costs less because you have a simpler structure with fewer parts and rivets, he said. He also dismissed concerns that the newness of the jet's composite structure could pose problems for maintenance.
The Learjet 85 is truly the result of an international effort. Around 1,800 Bombardier employees work on the plane around the world. It was developed largely in Montreal, wing skins are made in Belfast, the aircraft structure is assembled in Queretaro, Mexico, and then sent to Wichita, where the wings are affixed to the fuselage.
Bombardier has not revealed how many orders have been placed for the Learjet, but the Gazette reports that Flexjet, formerly a division of Bombardier, had ordered sixty. The Learjet's main competitor in the mid-size segment is Brazil's Embraer Legacy 500, which first flew in November 2012. Bombardier says the Learjet 85 will be the "largest, fastest and most capable" Learjet ever. The aircraft targets a high-speed cruise of Mach 0.82 and a transcontinental range of approximately 3,000 nautical miles (5,556 km).