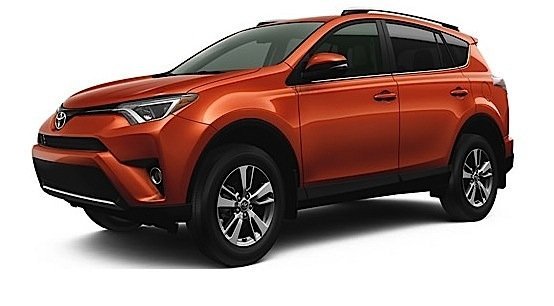 Canada set a new record for car sales in 2015, with nearly 1.9 million vehicles sold. According to one industry analyst, Dennis DesRosiers, it's possible that 2016 will be another record-breaking year. If that does happen, it will be the fourth consecutive record year for car sales in Canada.
Toyota was one of the car makers that enjoyed the strong sales. It announced that 2015 was its second-best year ever for total sales, but its best year ever for trucks and for Lexus sales. Truck sales were up a healthy 16.2 per cent compared to the previous year; Lexus did even better, increasing sales by 25.4 per cent compared to 2014.
Toyota Canada passed another landmark in 2015: for the first time, a Japanese car maker out-produced the Detroit competition. Toyota's CEO Larry Hutchinson said in Detroit at the international auto show that his company had produced 14,000 more units than General Motors Canada as of the end of November, and that the total would likely be higher with December's numbers included. This change is partly the result of a shrinking Detroit presence in Canada. The Detroit Three have been gradually moving production back to the US and to Mexico.
Bolstering Toyota's position in Canada is the popularity of its RAV4 crossover. As of now, the Toyota Camry is the best-selling car in the United States, according to Toyota. However, small crossovers and SUVs have been gaining in popularity in the US market. Sales surpassed those of mid-sized cars for the first time in 2015. The RAV4 and the Camry are so similar now that, according to Toyota CEO for North America Jim Lentz, they are "almost substitutes for each other."
Sales of RAV4s in the US increased from 267,798 in 2014 to 315,412 in 2015, an increase of 17.7 per cent. In the same period, Camry sales increased insignificantly, fewer than one thousand units. RAV4 sales in Canada were also up strongly, rising 15 per cent in 2015. The RAV4 is currently made in Canada, at Toyota's Woodstock, Ontario plant. It will also be built at the Cambridge plant when Toyota moves production of its Corolla to Mexico. By 2019, the two plants will be making RAV4s for North America.
Other car makers that make crossovers include General Motors, which makes the top-selling Chevrolet Equinox; Ford, which makes the Edge; and Honda, which makes the CR-V. Sales of all of these models were up last year.