Do you nostalgically cling to the belief that the old tons-of-steel behemoths of the 1950s and 1960s were safer than todays smaller, nimbler, faster-stopping cars? The Insurance Institute of Highway Safety did an anniversary crash test to abolish any lingering doubts.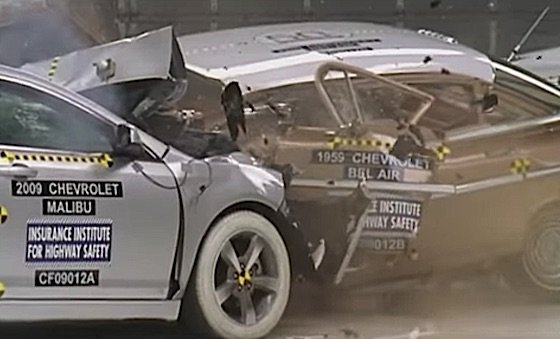 In the tests, as seen in the video, the crash test dummy in the 1959 Malibu, despite a weight in steel advantage, clearly was crushed. The modern Malibu survived. Although this is a slightly older video, it demonstrates the important advances we've made in auto safety technology:
Safety tech — the most important technology in a car
Zero to Sixty in 2.2 seconds would be amazing. Electric vehicle range of 500 kilometers would revolutionize the industry. But the tech that's the least sexy is the one that really counts. Auto safety.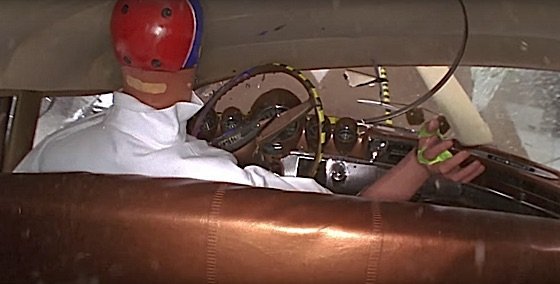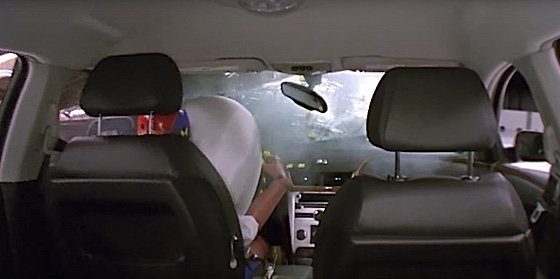 Each year, the Insurance Institute for Highway Safety awards the top safety picks in different categories, based on crashworthiness tests: small overlap front, moderate overlap front, side, roof strength, front crash prevention, and head restraints. To qualify as a "pick" the vehicle must pass all five of the tests.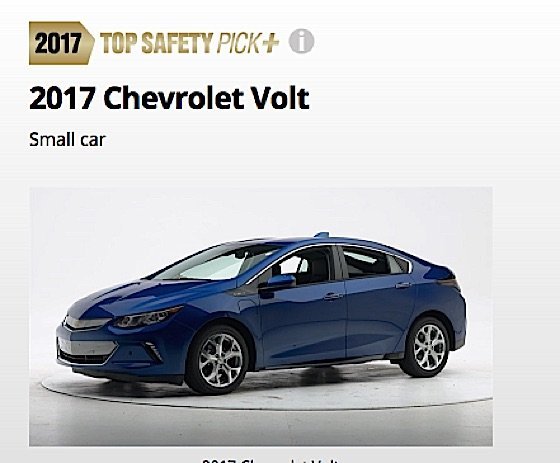 The engineering required to make an automobile safe in crashes at high speed is impressive and complex. Everything from avoidance semi-autonomous features, to crumple zones to air bag technologies must work perfectly.
No car is safe in a tractor trailer drive-under crash. The IIHS is recommending all truck trailers be equipped with crash cages. Watch this frightening crash video:
Size matters in a crash
In a crash, size still matters, despite engineering. In avoidance, a smaller car might have an advantage in safety (manoeuvring and stopping), but in an actual crash, the bigger the car the better.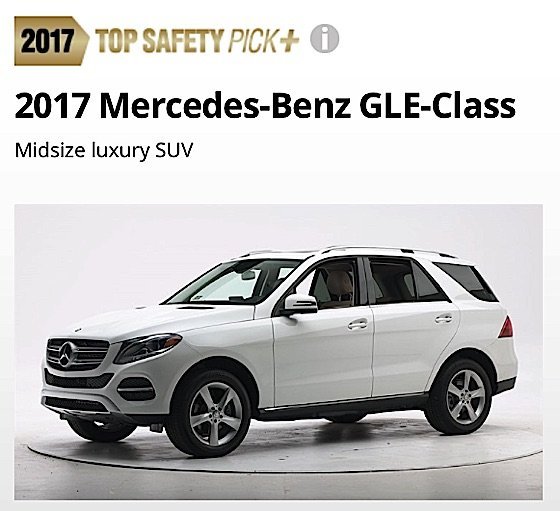 Two cars might pass the top safety pick rating, but an SUV or larger car will always have an advantage over a smaller car. Despite the complete list (below) by size category, the overall top 11 safest cars, as rated by a report from the IIHS are:
Audi Q7 SUV
Volkswagen Tiguan 2-wheel drive SUV
Toyota Tacoma Double cap long bed 4-wheel drive pickup
Mazda CX-9 2-wheel drive SUV
Audi A6 all-wheel drive
Jeep Cherokee all-wheel
BMW 535 i and is
BMW 535 xi
Lexus RX 350 2-wheel drive SUV
Lexus CT 200h
Mercedes Benz M-class SUV (GLE class)
However, for avoiding the crash to begin with, small and nimble cars from the IIHS top safety pick list might be a good choice.
According to IIHS: " Size and weight influence occupant protection in serious crashes. Larger, heavier vehicles generally afford more protection than smaller, lighter ones. Thus, a small car that's a

TOP SAFETY PICK

+ or

TOP SAFETY PICK

doesn't necessarily afford more protection than a bigger car that doesn't earn the award."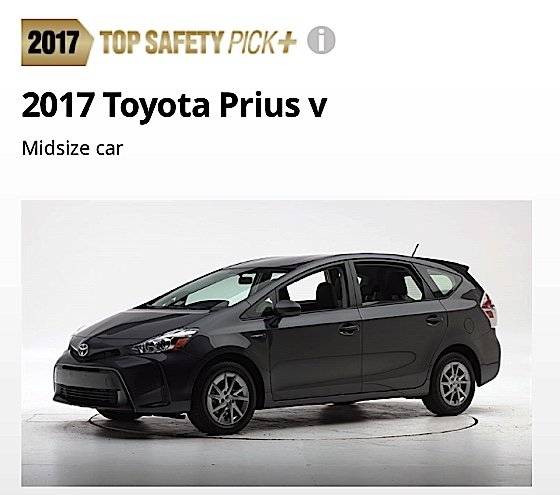 For 2017, here are the top picks in each category. + indicates Top Safety Pick PLUS, which is somewhat better than the Top Safety Pick.
"To qualify for 2017 TOP SAFETY PICK, a vehicle must earn good ratings in five crashworthiness tests — small overlap front, moderate overlap front, side, roof strength and head restraints — as well as an advanced or superior rating for front crash prevention.

To qualify for 2017 TOP SAFETY PICK+, a vehicle must earn good ratings in the five crashworthiness tests, an advanced or superior rating for front crash prevention and an acceptable or good headlight rating." *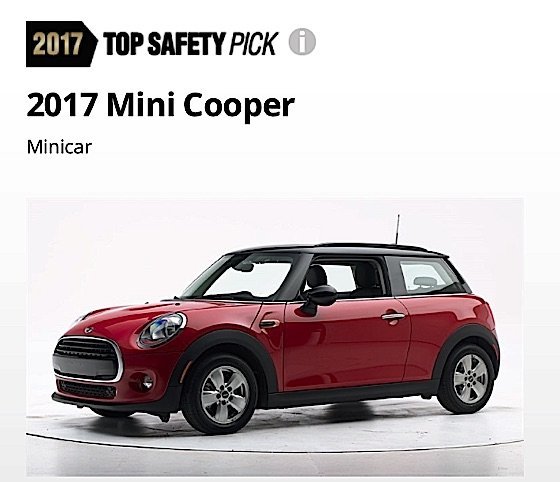 Minicars

with optional front crash prevention and applies only to Hardtop 2-door models

Small cars

with optional front crash prevention

with optional front crash prevention

with optional front crash prevention

with optional front crash prevention

with optional front crash prevention and specific headlights; applies only to sedans;
applies only to vehicles built after March 2016

with optional front crash prevention

2017 Mazda 3

with optional front crash prevention and specific headlights
with optional front crash prevention

with optional front crash prevention

2017 Subaru Impreza

with optional front crash prevention and specific headlights

with optional front crash prevention

applies only to vehicles built after August 2016

with optional front crash prevention

with optional front crash prevention

with optional front crash prevention

with optional front crash prevention

Midsize cars

with optional front crash prevention

with optional front crash prevention

with optional front crash prevention

with optional front crash prevention

with optional front crash prevention and specific headlights

with optional front crash prevention

with optional front crash prevention and specific headlights; applies only to vehicles built after March 2017

with optional front crash prevention and specific headlights

with optional front crash prevention and specific headlights

with optional front crash prevention and specific headlights

with optional front crash prevention and specific headlights

with optional front crash prevention and specific headlights

with optional front crash prevention and specific headlights

with optional front crash prevention and specific headlights

with optional front crash prevention and specific headlights

Midsize luxury cars

with specific headlights

with specific headlights

with optional front crash prevention and specific headlights; applies only to coupe models

with optional front crash prevention and specific headlights; applies only to 4-door sedans;
applies only to vehicles built after November 2016

with specific headlights

with optional front crash prevention

with optional front crash prevention and applies only to 4-door models

with specific headlights
Large cars

with optional front crash prevention

with optional front crash prevention and specific headlights

Large luxury cars

with optional front crash prevention

with optional front crash prevention and specific headlights

with optional front crash prevention and does not apply to V8 4-wheel-drive models

with optional front crash prevention and specific headlights

Small SUVs

with optional front crash prevention

with optional front crash prevention

with optional front crash prevention and specific headlights

with optional front crash prevention

with optional front crash prevention

with optional front crash prevention and specific headlights

with optional front crash prevention and specific headlights

with optional front crash prevention and specific headlights

with optional front crash prevention and specific headlights; applies only to vehicles built after October 2016

with specific headlights

Midsize SUVs

with optional front crash prevention

with optional front crash prevention and specific headlights

with optional front crash prevention and specific headlights;
applies only to vehicles built after March 2016

with optional front crash prevention

with optional front crash prevention

with optional front crash prevention

with optional front crash prevention
Midsize luxury SUVs

with optional front crash prevention

with optional front crash prevention and specific headlights

with optional front crash prevention and specific headlights

with optional front crash prevention

with optional front crash prevention

with optional front crash prevention and specific headlights

with specific headlights

with optional front crash prevention

with specific headlights

with specific headlights

Large SUVs

Minivans

with optional front crash prevention and specific headlights;
applies only to vehicles built after August 2016

with optional front crash prevention

Large pickups

with optional front crash prevention and specific headlights