According to a study by Carbon Tracker, Canadian oil and gas companies face financial risks associated with emissions limits outlined in the Paris Agreement. The goal of the Paris Agreement is to limit global warming to two degrees by monitor and limiting greenhouse gas emissions worldwide. While many companies are making great strides toward meeting these goals and have announced plans for continued improvements, others will likely find it difficult to stay afloat while struggling to meet demands.
Carbon Tracker calculated that the limits and changes made rendered approximately a third of the $4.8 trillion planned in oil and gas spending through 2035 unnecessary. It found that 40-60 percent of spending proposed by companies such as Imperial Oil, Encana Corp., Suncor Energy, Husky Energy, and Vermilion Energy would fall within that one-third and therefore be unjustifiable.
Growing interest in the part various companies will play in climate policies and initiatives led to the study. Carbon Tracker research director James Leaton stated, "We've had a sort of ongoing discussion with investors, and there's a growing desire to understand who the winners and losers might be in the energy transition."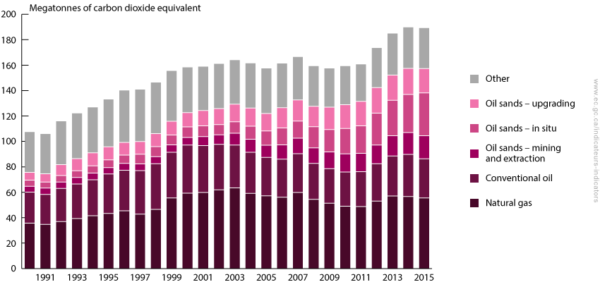 Canada a leading contributor to greenhouse gases per capita
Canada's economy is driven largely by energy and mining industries, which leaves the country at great financial risk if these companies find compliance with the agreement and its standards are not economically feasible. It may face even greater risk, however, if it delays the process of transitioning. Canada relies heavily on energy resources, including oil and natural gas, making it one of the leading contributors to greenhouse gas emissions per capita.
According to analysts Ian Gillies and Kory Cross, "There has been significant degradation to cash flow generation on strip pricing for exploration and production companies during the first half of 2017. If current depressed commodity prices remain into the future, we believe it is very likely that customer capex programs for the second half of 2017 and 2018 are reduced or deferred."
Researchers involved with the study are hopeful that companies will be more straightforward and open up about their plans for the shift and their capital expenditure. The report states that "to minimize both climate and economic risks, we need to become global leaders in decarbonization policy and innovation in these sectors, not laggards. With myopic and delayed decarbonization policy, all bets are off, and Canada exposed to increasingly hawkish climate geopolitics and continued market access barriers."
According to economist Chris Bataille, the key is for Canada, as well as the rest of the world, to encourage investment in energy efficiency and a shift toward the use of green energy as opposed to fossil fuels.