There was good news for the Niagara region and for Ontario's aerospace sector today as Airbus Helicopters Canada announced that it will add a new production line at its Fort Erie production facility, creating approximately forty new manufacturing jobs. The plant will be making engine cowlings for the EC225, an aircraft sold around the world and used widely in the oil and gas industry. It is used to transport workers to and from offshore drilling rigs.
The Fort Erie plant, which already has 235 employees, currently manufactures composite parts, including doors, cargo pods, cowlings, stabilizers, and other components for several of the company's helicopter models.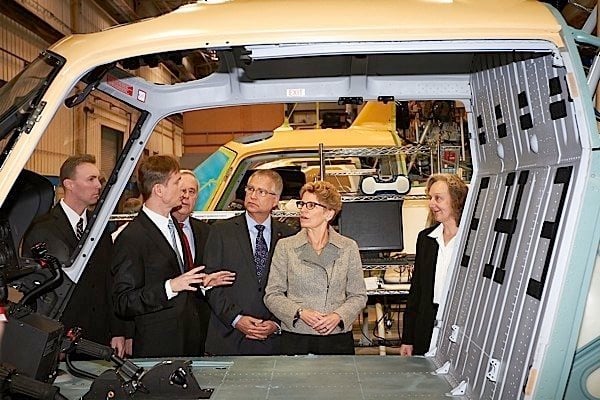 Airbus Helicopters Canada was formerly known as Eurocopter Canada. The company rebranded itself and became Airbus Helicopters last month. The Eurocopter Group was founded in 1992 with the merger of rotocraft divisions Aerospatiale from France and Deutsche Aerospace in Germany. It manufactures a dozen different helicopter models, both civil and military. Its aircraft account for approximately one-third of the world's active fleet.
The CEO of Airbus Helicopters Canada, Romain Trapp, said that the multi-million-dollar investment in Fort Erie was a demonstration of the company's commitment to Ontario and to Canada. The company is already the largest employer in Fort Erie.
"This is very good news for the Niagara region," said Mr. Trapp. "This expansion of our composite department will also help protect the jobs already here as we continue to grow."
More than half of all new civil helicopters delivered in Canada over the last ten years came from the Fort Erie facility, Trapp said. The company's product range is the largest in the world, he said, and they have customized it to the specifics of the Canadian market.
Airbus Helicopters, the parent company of the Canadian subsidiary, announced in a year-end statement that it delivered 497 helicopters in 2013. More than half of those were for civil aviation use, and nearly three-quarters of deliveries were outside the "home countries" of France, Germany and Spain. Guillaume Faury, president of Airbus Helicopters, said that the company was entering 2014 with a "transformation plan" that would see the company become more responsive to customers' "evolving expectations" and become a more customer-driven company.