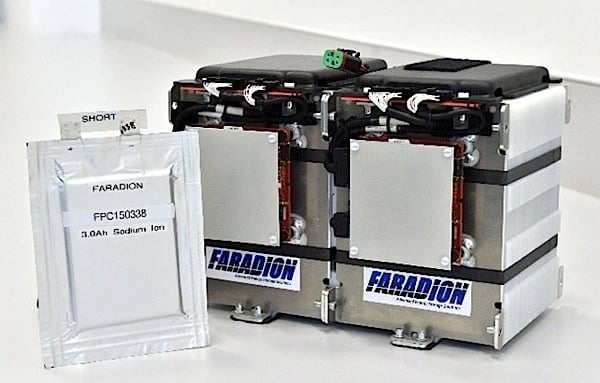 A battery that costs 30 per cent less per kilowatt hour than the standard lithium-ion battery but performs at comparable levels and is safer to use and to transport sounds like what the world has been waiting for. Such a battery would use sodium instead of lithium, and a company in Britain claims to have demonstrated it in the world's first sodium-powered vehicle, an e-bike. Faradion says that the proof-of-concept e-bike is a "major milestone" for the technology.
Sodium batteries are considerably less expensive than lithium-ion counterparts mainly because sodium is so much more abundant and easily sourced. The safety benefit is in the fact that sodium-ion batteries can be transported in a fully discharged state, while lithium-ion batteries must be partially charged when they are transported. This has to do with the metal used in the current collectors of the battery's cathode and anode. In lithium-ion batteries, these must be made of copper, which begins to dissolve when the battery is fully discharged, in turn affecting the battery's performance. The sodium-ion battery uses aluminum instead, a metal that does not form alloys with sodium.
Another safety issue that the sodium-ion battery improves upon is the problem of rapid heating due to the chemical reactions that occur in a battery. The phenomenon of "thermal runaway" caused by self-heating can occur when the ambient temperature is augmented by the heat generated by the battery itself. This can lead to the catastrophic destruction of the battery if the rate of heat generation exceeds the rate of heat dissipation.
The demonstration is a major milestone for the technology that has been designed and developed in the UK. Although lithium-ion batteries are currently the predominant battery technology in electric and hybrid vehicles, as well as other energy storage applications, sodium-ion offers significant cost, safety and sustainability benefits.
The Faradion battery, it is claimed, becomes self heating at a higher temperature than standard lithium-ion batteries—at 150°C as opposed to 90°C. Also, the temperature in lithium-ion batteries can climb at 4000°C per minute, which can lead to fire and explosion. The sodium-ion battery's temperature rises at a maximum of 52°C, making it safer, according to Faradion.
The Faradion batteries could be used to power vehicles, but the company sees its biggest potential market in energy storage for the home, similar to the Powerwall home battery recently unveiled by Tesla founder Elon Musk.
While research into sodium-ion batteries has been going on for several decades, zinc also holds a lot of potential. Zinc is also cheaper than lithium, and reserves of the metal are massive. Zinc has great storage capacity, is not subject to thermal runaway, and it is recyclable. If researchers can figure out how to stop zinc electrolytes and electrodes from degrading after just a few hundred cycles, zinc could dethrone lithium even before sodium does.