Canada and Kazakhstan signed an agreement on the peaceful use of nuclear energy last November, and that agreement has now come into force. It could allow new cooperation between the two countries, including technology sharing and diverse joint projects. Nuclear energy can be used in a number of areas, including industry and power generation. The first project will be the construction of a $200-million facility for the conversion of uranium to UF6 (uranium hexafluoride), the final step before enrichment. Only after enrichment can uranium be used as nuclear fuel. Canada is one of just six countries that have conversion facilities at present.
The nuclear agreement with Kazakhstan comes just two weeks after SNC-Lavalin of Montreal announced a cooperation agreement with China Nuclear Power Engineering Company for the construction of two CANDU nuclear reactors at a power plant in Romania. Romania already has six CANDU reactors in operation, producing about 20 per cent of the country's energy supply, according to SNC-Lavalin.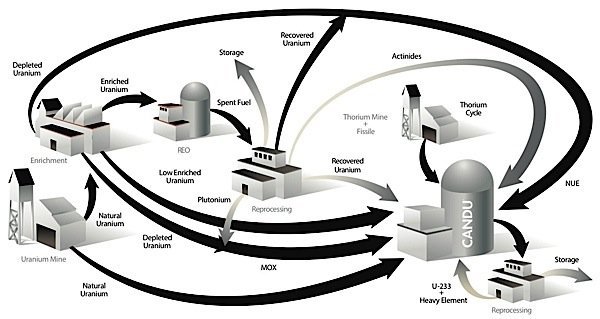 SNC-Lavalin also signed a memorandum of understanding with the China National Nuclear Corporation to jointly develop power generation and other nuclear-related projects using Advanced Fuel CANDU (AFCR) technology. AFCR uses recycled uranium and thorium-based fuels, giving it an environmental advantage. CANDU reactors also have a long operational lifetime, and can be refueled without shutting them down.
The MOU with China also provides for future uranium mining collaborations between SNC-Lavalin and CNNC in China.
CANDU nuclear technology is also already established in China, where two 700-megawatt CANDU reactors are currently operating. In a statement, SNC-Lavalin said that China National Nuclear Corporation is also pursuing a contract for a "CANDU-type reactor" in Argentina. SNC-Lavalin would also participate in this deal, one which the former Atomic Energy of Canada Ltd. (AECL) had hoped to land itself.
AECL was sold by the federal government to SNC-Lavalin in 2011. It now owns the intellectual property for the CANDU and will participate in design and engineering work on the Romanian project. AECL is now known as Candu Energy.
"This is an exciting opportunity to build on CANDU technology's international track record for the highest levels of safety, reliability and efficiency," said Preston Swafford, Candu Energy President and CEO. "Today's agreement deepens our strong ties with both the Romanian and Chinese nuclear industries, as CANDU reactors have operated in both countries for more than a decade."
He added that the project will make a "meaningful contribution to Canada's economy," potentially billions of dollars, and support highly skilled jobs.
Candu Energy is also pursuing new build opportunities in the United Kingdom and China, among other markets.