Canada's manufacturers set a sales record in July, beating the record set back in July of 2008. Sales were up 2.5 per cent, to $53.7 billion, with sixteen of the twenty-one industries tracked reporting increases. Manufacturing sales have been moving upwards since January, Statistics Canada reports.
The biggest gains continued to be in transportation equipment, which includes cars and trucks, car parts, aerospace products and parts. Transportation equipment sales were up 10.3 per cent to $10.1 billion. Of that, car sales accounted for $5.1 billion, an increase of 11.6 per cent. Also strong were sales in primary metals, which rose 4 per cent to $4.2 billion.
The bulk of the gain in manufacturers' sales was in Ontario. A gain of 4.2 per cent pushed sales to $25 billion in July. Of that, 90 per cent derived from the 12.2 per cent increase in transportation equipment sales. Both the primary and the fabricated metal industries rose, 3.9 per cent and 4.4 per cent respectively.
The biggest loser in July was the food manufacturing industry, which declined 1.4 per cent to $7.9 billion. In Ontario, the drop in food manufacturing was even steeper, at 3.6 per cent.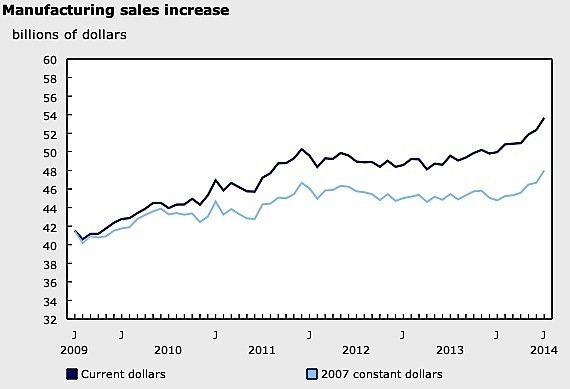 The positive numbers in the Statistics Canada report are reflected in a new statement from CIBC, which forecasts that Ontario's economy is set to be the "biggest beneficiary" of the "sturdy" US economy and a weaker Canadian dollar. CIBC projects that Ontario could see an additional $4–5 billion in revenue over the next two years, thanks to stronger exports to the US. The bank calls for a growth rate of 2.8 per cent in Ontario next year. Only Alberta will do better, it says. Ontario's growth will continue above the national average in 2016.
"From manufacturing shipments, to domestically driven signposts in retailing, wholesaling and homebuilding, Ontario has seen a notable resurgence, shifting from a perennial trailer to among the better performing regions of the country," says Avery Shenfeld, Chief Economist at CIBC.
The bank calls for a significant depreciation of the loonie, as the Bank of Canada lags the US Federal Reserve in interest rate hikes. CIBC forecasts that the loonie will be trading at 85 cents US next year. That, combined with lower federal and provincial corporate taxes, and a $2.5 billion fund set up by the provincial government to attract direct investment, will help position Ontario as a more cost-competitive location, the bank says.
CIBC is not alone in its optimism about the Ontario economy. RBC also issued a statement saying that "rapidly improving US demand will sustain further acceleration next year." Based on that, RBC, like CIBC, forecasts a growth rate of 2.8 per cent for Ontario in 2015.