IBM and a pair of Swiss partners—research university Eidgenössische Technische Hochshule Zürich and Airlight Energy Holdings SA—have revealed efforts to develop a more efficient way of capturing and utilizing solar energy. The "high concentration photovoltaic thermal system" is a multi-facet parabolic dish made with low-cost materials, with mirrors that track the sun and a sophisticated cooling system that prevents the PV cells from overheating.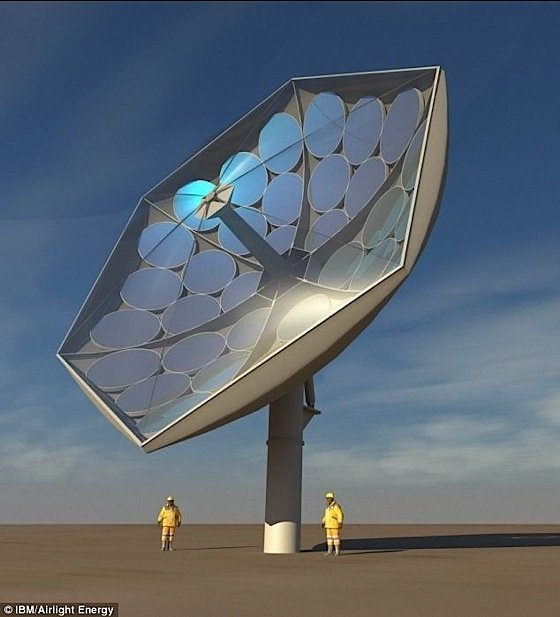 IBM says that the main benefit of this kind of concentrated solar power system is that it reduces the surface area of the photovoltaics, which cuts down on the amount of costly rare earth elements needed. The system's mirrors focus the concentrated sunlight onto an array of small "micro-channel cooled photovoltaic chips." Each chip is 1 centimetre square, and can produce 200–250 watts on a sunny day. With 100 chips per dish, the power output could reach 25 kilowatts per day.
The microfluidic system that cools the PV chips allows them to stay "virtually unheated" even at 2,000 times sunlight. The system, according to the project team, can concentrate up to 5,000 times sunlight without melting. An IBM researcher said that the triple-junction photovoltaic cells used in the system will be capable of converting 30 per cent of collected solar radiation into electrical energy.
According to a promotional piece accompanying the announcement, these devices could supply the entire world's electricity needs using just 2 per cent of the land area of the Sahara Desert. The projected cost to deploy the system is under $250 USD per square meter, and at a cost-per-kilowatt-hour of <$0.10 USD/kWh, which is comparable to the cost of coal power in many regions.
An added benefit of the system is its capacity to create clean drinking water as a byproduct of its operation. The water used in the cooling system heats to a temperature of 90ºC, which vaporizes it. It then passes through a membrane system that filters out salt, leaving fresh water. While using the system to create water reduces its power-generating capacity, researchers estimate that it could produce 30–40 litres of water per day, while still producing 2 kWh of power per day.