Irving Shipbuilding of Halifax today signed a contract worth $2.3 billion with the government of Canada for the building of six Arctic Offshore Patrol Ships (AOPS). The six Arctic ships will be icebreakers for the navy's use in the North. The work on the AOPS will sustain more than 1,000 jobs, the government says, bringing total employment at Irving Shipbuilding to 1,600. Many of the jobs will be in welding, metal fabrication, ironwork, electrical, and pipefitting. There will also be future work in planning and production management.
The AOPS contract is in addition to a much larger contract, worth a reported $26 billion, under which Irving has been designated the prime contractor for the planned replacement of the navy's fleet of fifteen frigates. The company also built the navy's existing frigates in the 1980s and 90s. Today's announcement marks the beginning of the construction phase of the program, known as the federal shipbuilding procurement strategy. The total value of the government's procurement strategy is $35 billion.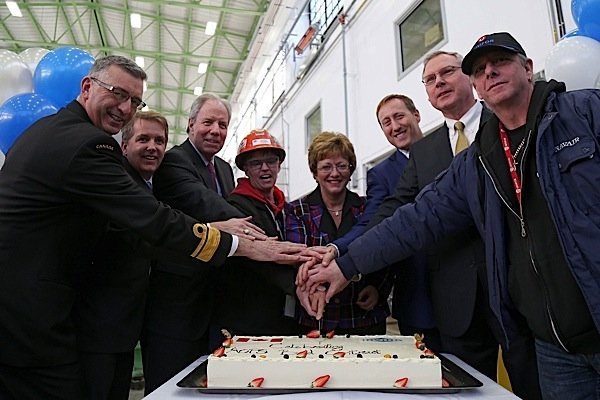 Irving had been selected long ago, according to CBC News, to build the combat ships but the announcement on Tuesday that Irving is the prime contractor gives the shipyard almost complete charge of the project. As prime contractor, Irving will have the right to hire sub-contractors. Some of the most likely are big name defence contractors like Thales and Lockheed Martin, which had expressed interest in the government contract.
The government's decision to make Irving prime contractor without first holding a competition has been criticized. A former head of procurement for the Defence Department told CBC News that the procurement strategy is deliberately confusing, and that a competition should have been held. Making the builder the prime contractor puts too much power in the hands of a single entity. However, others say that the arrangement has the advantage of being more streamlined. Instead of having one group in charge of project definition and design, and another in charge of building, as is usual with these large projects, the government has chosen to reduce risk by having one company run everything. Irving is now accountable for the entire project.