Once again, the economists got it wrong. A Bloomberg News survey of twenty-five economists had produced a forecast for 5,000 Canadian jobs lost in October. Instead, 43,100 jobs were created, enough to lower the country's unemployment rate to 6.5 per cent, its lowest level in six years. In Ontario, 37,000 new jobs were added in October, most of them full time. Here, too, the jobless rate dropped from 7.1 per cent to 6.5 per cent, the lowest it's been since the recession. The unexpectedly high rate of job creation followed even higher gains in September, when 74,100 new jobs were created.
All of the new jobs were among workers aged 25–54, Statistics Canada reports, and most of the increase was among women. There were gains in retail and wholesale trade, finance, insurance, real estate, manufacturing and educational services. In manufacturing, there were 33,200 more jobs in October than in September. There were more new jobs in the private sector than in the public sector, where the number of employees actually dropped. The natural resources sector also lost jobs: 22,200 jobs disappeared in October, adding to previous monthly declines in that sector to produce a total industry decline of 6.2 per cent over the last twelve months.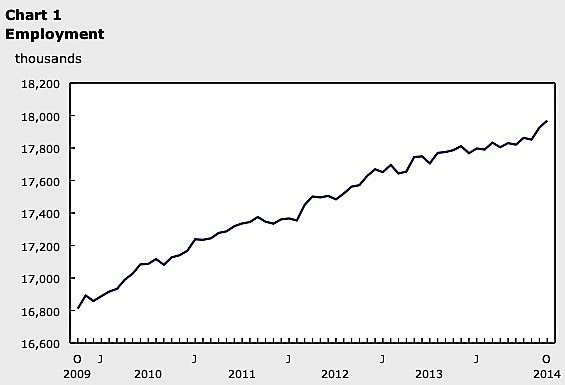 The economy grew by 3.6 per cent in the second quarter and is expected to grow 2–2.5 per cent in the third. The falling Canadian dollar, now trading at around 88 cents US, and the improving US economy are expected to benefit Canada's economy, and job growth, at least in the short term. In the United States, 214,000 jobs were created in October, a solid but not outstanding performance, according to some. The US economy has added at least 200,000 jobs in each of the last nine months. The unemployment rate in the US fell to 5.8 per cent in October, the lowest it has been since 2008.
The latest Statistics Canada report on Canada's international trade was also mainly positive. Imports in September declined while exports rose, turning a trade deficit of $463 million in August into a surplus of $710 million in September. Exports of cars and car parts rose 6 per cent, to $6.4 billion. Other industries in which exports increased were consumer goods including pharmaceuticals and medicinal products, miscellaneous goods and supplies, meat and food products, and metal and non-metallic mineral products.
Some areas in which exports declined were aircraft and transportation equipment, and farm and fishing products.