The explosion in worldwide oil and gas production is proving to be a boon for the industrial valve market. Market research firm the McIlvaine Company, published in Industrial Valves: World Markets, forecasts that in 2015 expenditure on valves used in oil and gas extraction will exceed $10 billion. The forecast includes valves used in LNG and gas-to-liquids plants, but not refineries.
The biggest market remains the Middle East, but North America will be "a close second." The expansion of US shale gas production and "tar sands" production in Canada will be responsible for the growth in North America. Hydraulic fracturing requires extensive valving, the McIlvaine statement says, much of it used in controlling water and wastewater. There is also significant investment in valving for the treatment of flowback water, which is usually too contaminated with chemicals to be treated by conventional water treatment plants.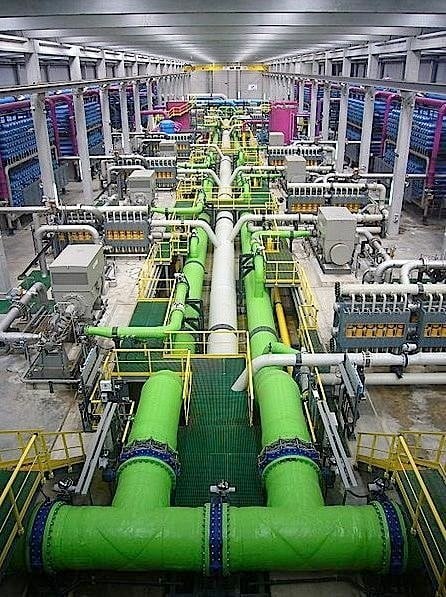 Valves used in hydraulic fracturing are generally of the same type as those used in conventional oil and gas field work: ball valves, solenoid valves, plug valves, gate valves and check valves, to name a few. However, valves can be subject to pressures of up to 15,000 psi, according to an item on ThomasNet.  Globe and check valves make up the largest segment of the valve market, being well-suited for high-pressure applications.
Another growth area for valves is the desalination industry, McIlvaine reports. The market for valves in that industry is forecast to exceed $5 billion in 2015.
Drought-prone California is the "epicenter" of desalination activity at this time. A desalination plant now under construction near San Diego, California will be the largest in the Western Hemisphere, producing 50 million gallons of potable water per day. It will cost $1 billion to build the plant. An additional sixteen desalination plants are in planning stages in California, the report says.
A different report, World Industrial Valves to 2017, published by RnR Market Research  also forecasts big growth. Global demand for industrial valves will grow 5.1 per cent per year through 2017, making the industry worth more than $80 billion. The developing markets of China and India will drive growth in water infrastructure and electricity generation. China has now become the largest producer of industrial valves, the report says.
The RnR research confirms that the industrial valve market will benefit from the boom in hydraulic fracturing in the United States. Process manufacturing will also see strong gains in, especially in the chemical industry.