For the fourth consecutive month, Canada's economy grew in October, Statistics Canada reports. GDP grew by 0.3 per cent in October, with significant gains in manufacturing and service industries. In the goods producing industries, the growth was 0.4 per cent, mainly as a result of manufacturing. The annualized rate is 2.7 per cent, the highest since May, 2012 and higher than the Bank of Canada has forecast for the fourth quarter of the year. The central bank called for a 2.0 per cent rise in October, and a 1.6 per cent annual rise for 2013.
Manufacturing output increased 1.3 per cent in October, after a 1.2 per cent rise in September. Durable goods were up 0.5 per cent on the strength of transportation equipment and primary metal. In the non-durable goods category of the manufacturing sector, the increase was higher still: 2.3 per cent, due mainly to increases in the manufacture of chemical, food and beverage and tobacco products.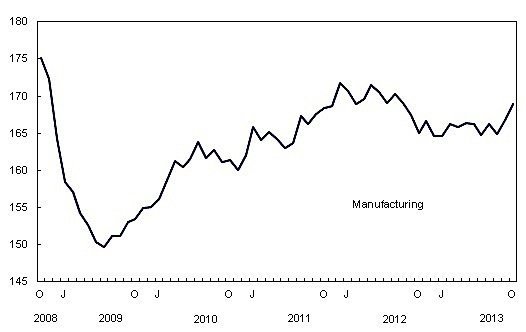 The growth in manufacturing could be the result of higher exports in response to higher US demand and the weaker Canadian dollar.
Wholesale trade, mainly of machinery, equipment and supplies, also grew for a fourth consecutive month, posting a 1.4 per gain in October. Retail trade saw notable gains at food and beverage stores, electronics and appliance stores, and health and personal care stores. Retailing of cars and trucks and auto parts, however, was down.
Several industries saw no change in October: mining, quarrying and gas extraction were unchanged, but support activities for oil and gas extraction grew 3.0 per cent. Construction was also unchanged in October.