GO Transit will be receiving 253 new low-floor, high-capacity double-deck buses from Scottish bus maker Alexander Dennis Limited (ADL). Under the terms of the agreement between Metrolinx and ADL, a bus chassis assembly plant will be built in the GTA. This is expected to create up to thirty full-time jobs. Construction on the plant will begin in 2015. The first buses, which will be fully accessible, will be delivered the following year. Metrolinx has an option to purchase up to 150 additional buses over the five-year contract.
The lower height of the new buses is intended to improve service on GO Transit's bus routes. Older double-decker buses currently in service cannot access all of the existing GO Transit terminals. As the new buses come on line, that problem of restricted accessibility will be eliminated. The lower floor and a longer, more gradual entrance ramp will also improve boarding and exiting for passengers. The buses will also have a wider area to accommodate wheel chairs, Metrolinx says. As well, there will be 120V charging outlets available for motorized wheelchairs.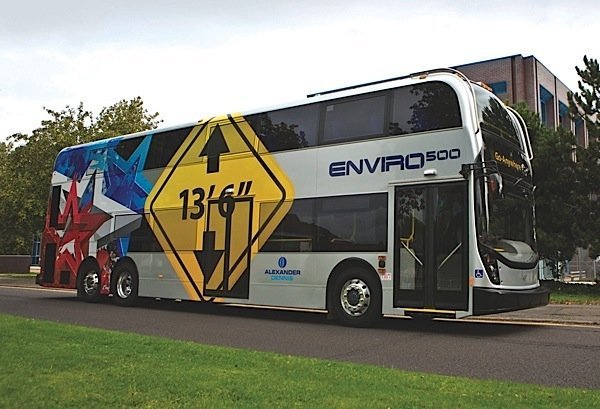 ADL is a leading bus manufacturer in the UK, with facilities in the UK, in Asia, and in North America. There are already 125 ADL buses in service in the Toronto area GO Transit service.
Metrolinx President and CEO Bruce McCuaig said, "These buses represent the future of our bus fleet and set a new standard for the service we provide. Their lower floors will allow customers with limited mobility to board with ease, and their lower height will allow us to bring double-decker service to all of our routes."
Ontario's minister of transportation, Steven Del Luca, noted that the new bus agreement would bring jobs to Ontario as well as improving service for bus passengers.
ADL buses are in use in several cities throughout North America.