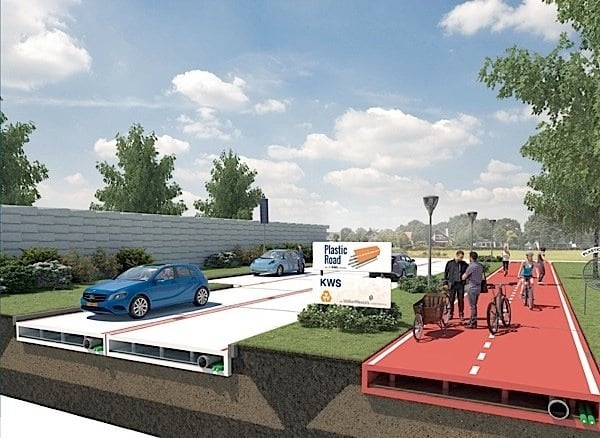 Some of the most interesting and innovative ideas regarding road construction come from the Netherlands. Last October, the world's first solar road was installed near Amsterdam. The road is actually a bike path, but it has been very successful, surpassing expectations after just six months of trial. SolaRoad has generated more than 3,000 kwh of electricity from the solar panels that make up its surface. The concept is being discussed for development for vehicular roads.
Now another Dutch company, KWS Infra, which is the road-building division of construction company VolkerWessels, has revealed its plans to build roads from recycled plastic. PlasticRoad, as the concept is called, can be built much more quickly than conventional asphalt roadways. The roads will be built in prefabricated sections, which can be transported to building sites and assembled. The company says construction time can be reduced from months to weeks using this process.
Another great advantage is that the plastic roads will be virtually maintenance free once built, and will last much longer than asphalt road surfaces. KWS says that the plastic surface will be impervious to corrosion and weathering, meaning that the common problems of surface cracking and potholes would be effectively eliminated. The plastic itself is reported to be stable within a temperature range of -40°C to 80°C, making it viable in climates found in most cities in Canada.
Another feature of PlasticRoad that makes it advantageous is its hollow construction. Not only does that reduce its overall weight, it also allows engineers to install drainage pipes and utility cables beneath the road's surface, but within the roadway itself.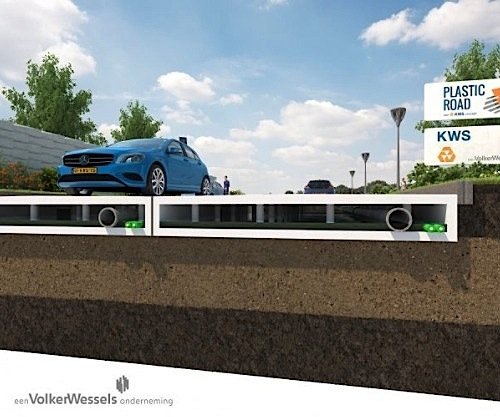 Still another advantage is the reduction in waste plastic bottles it will facilitate, opening up a whole new area of use for the growing quantities of waste bottles in the world. Even plastic that is currently floating in the world's oceans could be harvested for use in PlasticRoad.
Also, reducing the use of asphalt in road construction will reduce CO2 emissions in the world. According to KWS, 1.6 million tons of CO2 are discharged into the atmosphere each year as a direct result of asphalt production, an amount equal to 2 per cent of all road transport emissions. Asphalt also contributes to the heat island effect in cities in summer.
KWS is currently launching a pilot project in Rotterdam. The Netherlands' biggest road builder is looking for partners for the pilot project. The city of Rotterdam is said to be "very positive" about the development of the plastic road. According to the Guardian newspaper, directors of the construction company that developed the concept plan to put down their first fully recycled road within three years.