Statoil Canada says its exploration well located in the Bay du Nord northeast of St. John's Newfoundland is a "high impact discovery." The company, working with Husky Energy, confirmed that it has discovered between 300 and 600 million barrels of oil recoverable in total at three sites in the Flemish Pass Basin. There are additional "prospective resources" that require further exploration. The Bay du Nord discovery is the third for Statoil in the Flemish Pass Basin, approximately 500 kilometres northeast of St. John's. The other two are Mizzen and Harpoon. Together, the three discoveries are being described as "significant." The discoveries are all in approximately 1,100 metres of water.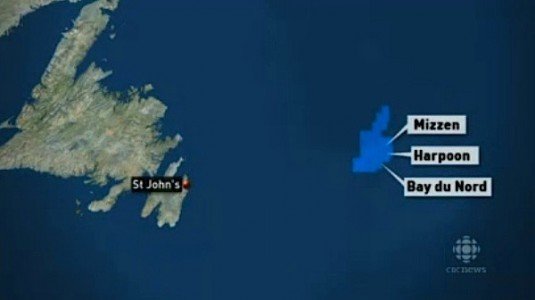 According to a Statoil statement, the oil found is light, with an API 34 (American Petroleum Institute) rating. It is described as having high porosity and high permeability. The lighter crude will yield more components such as natural gas and naphtha in the distillation process, and is more suitable for producing gasoline, compared to crude with a lower API rating.
Tim Dodson, executive vice president of Statoil Exploration, said that the discovery "brings us one step closer to becoming a producing operator in the area." More work is required, he said, as the company has drilled only a "few well" in an area of 8,500 square kilometres. "This will involve new seismic as well as additional exploration and appraisal drilling to confirm these estimates before the partnership can decide on an optimal development solution in this frontier basin."
Statoil has called this its biggest oil discovery ever, outside of Norway, and a milestone in its development as an international company. The provincial government of Newfoundland has also been quick to laud the discovery. The province's natural resources minister, Tom Marshall, called the discovery a "game changer" for Newfoundland and Labrador, where the offshore oil industry already accounts for one-third of the province's GDP. However, it is unlikely that production will begin any time soon.
Statoil has a 65 per cent interest in the three Newfoundland discoveries, Mizzen, Harpoon and Bay du Nord. Its partner Husky Energy of Calgary has a 35 per cent interest.
"High impact," a company release explains, means 100–250 mmboe (million barrels of oil equivalent).