Canada's economic output grew by an annualized rate of 3.5 per cent in the third quarter, largely on the strength of strong energy exports. Exports in the energy sector increased by 6.1 per cent, Statistics Canada reports, after a 5.1 per cent decline in the second quarter. Other areas of growth included goods and services, which were up 2.2 per cent, again following a decline (3.9 per cent) in the second quarter. Exports of consumer goods rose 3.6 per cent, metal ores and other minerals 5.7 per cent, industrial machinery, equipment and parts 3.7 per cent, and forestry products and building materials 2.7 per cent.  Among the services sector, exports of travel and commercial services rose 3.0 per cent and 1.0 per cent respectively.
Some economists warn that the strong third-quarter performance, in which the economy regained ground lost in the second quarter, will not last. The Bank of Canada is forecasting growth of 2.0 per cent in 2017. The chief economist at BMO Financial Group, Doug Porter, said that the unexpectedly strong growth in the third quarter could set the stage for "broad-based upward revisions" to the country's overall GDP growth rate in the coming year.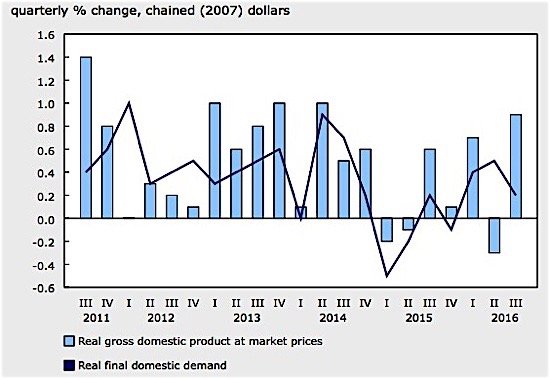 OPEC announcement sends oil prices higher
Not reflected in the Statistics Canada data is the surprise announcement by the oil cartel, OPEC, which said it would cut oil production in a belated response to the world's oversupply crisis. Prices of crude crashed two years ago, plunging from $100 a barrel to under $40. At the time, the Saudi oil minister declared that the days when his country and other OPEC members would provide insurance to the rest of the world by limiting production and thus keeping prices high were over. The unstated but obvious message underlying this position was that low oil prices would force high production cost competitors, including oil sands producers in Canada, out of the market. It was also aimed at the fracking boom now underway in the US.
The result has been a shrinking in US production, reportedly down from 9.6 million barrels a day in 2014 to 8.6 million barrels a day now. More than $1 trillion in oil investment worldwide dried up. Saudi Arabia itself has reportedly been forced to spend more than $100 billion of its foreign exchange reserves, and has had to cut services and government salaries.
Yesterday, in Vienna, the oil-producing cartel said it would reduce production from the current 33.7 million barrels a day to 32.5 million. Since the announcement, global oil prices have surged by 15 per cent, with Brent crude, the global benchmark, reaching $53.94 a barrel on the New York Mercantile Exchange, its highest value since August 2015, according to the Wall Street Journal.
How this will affect producers in Canada in the long term is unclear. As some analysts have pointed out, if non-OPEC production rises, oversupply will again become an issue, forcing prices down again. Russia has said it would follow OPEC's lead and cut production by 600,000 barrels per day, but there is skepticism about its intentions to follow through, especially with prices rising.