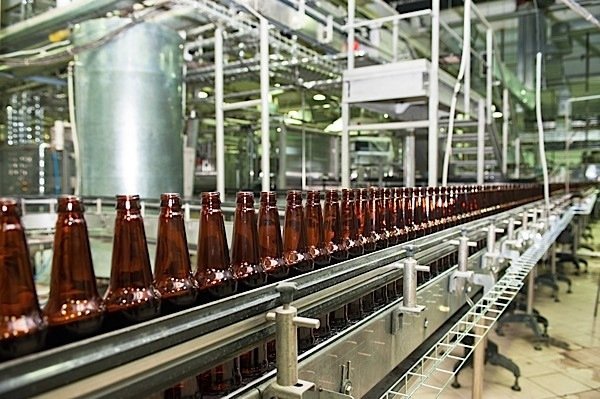 Wholesale trade in Canada picked up in March after two consecutive monthly declines, Statistics Canada reports. Sales rose 0.8 per cent, to $53.9 billion, with five of the seven subsectors tracked recording gains in March. Building materials and supplies recorded the largest gain in dollar terms, with a 2.8 per cent increase to $7.6 billion. The electrical, plumbing, and heating and air-conditioning equipment industry recorded an increase of 4.7 per cent, while sales of lumber, millwork, hardware and other building supplies rose 3 per cent.
The food, beverage and tobacco sector gained 1.2 per cent to $10.7 billion, the fifth consecutive gain for the sector. Personal and household goods sales also rose for the fifth month in a row, up 1.5 per cent to $7.7 billion on higher sales of pharmaceuticals and pharmacy supplies.
Autos and auto parts saw stronger sales, after two monthly declines. Stronger car sales led the sector to a total of $8.9 billion in sales.
Ontario sales rose 1.9 per cent to $26.3 billion, also on the strength of building materials and supplies, as well as the auto sector.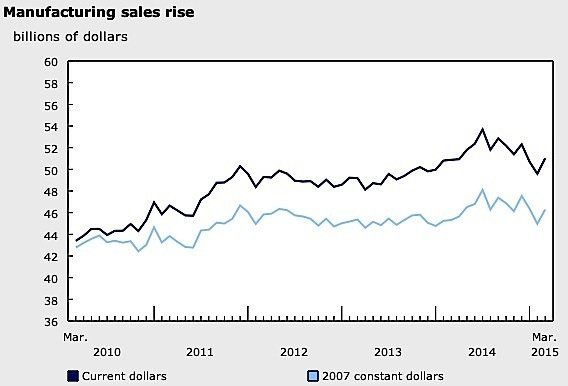 Manufacturing sales also rose in March, reaching $51 billion, with increased sales in ten of the twenty-one industries tracked by Statistics Canada. It was the second increase in six months. An increase in aerospace products and parts, along with gains in the auto industry, were responsible for the rise in sales. Aerospace production rose 42.3 per cent after a drop of 29.4 per cent in February. The aerospace industry, subject to greater fluctuation than many, experienced a quarterly decline of 3.9 per cent in Q1 2015 compared to Q4 2014. However, on a year-over-year basis, aerospace production was up 6.3 per cent in Q1.
Auto sales were up 12.8 per cent in March, after dropping 18.9 per cent in the previous two months. Those declines reflected shutdowns for retooling in various Ontario plants. The increase in auto sales helped Ontario post a 2.6 per cent gain in sales for March.
Food sales, up 3 per cent in March, reached their highest level ever, Statistics Canada says. Widespread gains in that industry also contributed to Ontario's better sales for March.
Stephen Poloz, governor of the Bank of Canada said in a speech yesterday that the economy is on course for "sustainable, balanced growth," though it continues to face "headwinds." Non-energy exports, he said, are performing well.
However the CEO of the Royal Bank of Canada said Canada's recovery is trailing that of the US. David McKay said at a Bloomberg economic summit in Toronto that Canada's growth for 2015 "may expand by 2 per cent this year and could increase by 2.5 per cent next year." Growth forecasts for the US put it at 2.5 per cent this year and 2.8 per cent next year. Inability to find new markets for exports is partly responsible for the relatively weak performance in Canada, McKay said. Falling oil prices have also had an impact.