Wind turbines often catch fire and burn much more frequently than is reported, a study from the UK and Sweden maintains. Researchers at Imperial College London, Edinburgh University and SP Technical Research Institute of Sweden report that while an average of 11.7 turbine fires are reported annually, more than 117 fires actually occur worldwide. At present there are an estimated 200,000 turbines in operation around the world.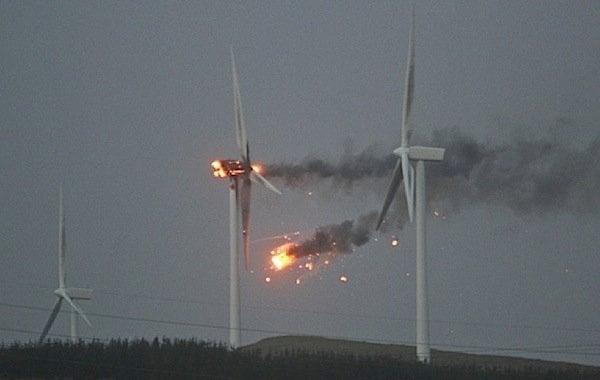 The report says that in comparison to other energy industries, the wind turbine industry is relatively fire free. In the oil and gas industry, thousands of fires are reported each year. The difference is, according to the report, that the economic impact of a wind turbine fire can be significant. As an example, the report gives the case of a turbine on an Australian wind farm containing 112 turbines. When one of them caught fire during a heat wave, the entire farm was shut down, cutting power to 63,000 homes. In addition, burning debris from the turbine ignited ground fires that destroyed 80,000 hectares of a national park. The cause of the fire was found to be electrical failure in the nacelle. Lightning srikes are the most common cause of wind turbine fires.
The report notes the extreme difficulty in fighting a turbine fire, owing to their height and their often remote locations.
The nacelle is typically the main "fuel load" within a turbine. Constructed of polymers, and containing insulation and a variety of cables and oils, nacelles are highly flammable. A single 1.5 MW wind turbine nacelle can contain up to 900 litres of lubricating oil including cooling and cleaning fluids, the report says. The transformer, located at the base of the tower, can easily contain an additional 2,200 litres of transformer oil.
Electrical/electronic equipment failure or malfunction is a common cause of fire in turbines, often caused by overheating or overloading. Short circuits, arcs, and inadequate electrical protection are common causes of fire in wind turbines.
The fire problem in wind turbines arises as a result of large amounts of highly flammable materials (hydraulic oil and lubricants, composite materials, insulation, and polymers) contained within the nacelle of the wind turbine and packed in close proximity to potential ignition sources such as overheated mechanical components (hot surfaces) and electrical connections that could fail.
Besides electrical malfunction, overheating surfaces such as bearings, gearboxes, and mechanical brakes can pose a high fire risk in wind turbines if flammable materials come in contact with them.
Among the recommendations are passive fire protection measures including comprehensive lightning protection systems, use of non-combustible hydraulic and lubricant oil, installation of a radiant barrier to protect combustible solids in the nacelle, and avoiding the use of combustible insulating materials in the turbine nacelle where possible.