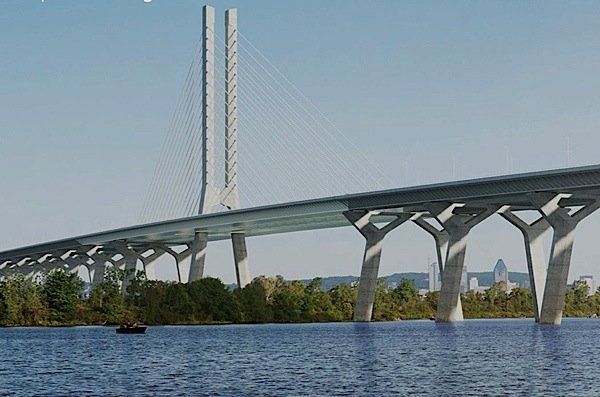 Engineering giant SNC-Lavalin Group will head a consortium to replace the Champlain Bridge across the Saint Lawrence River in Montreal. The federal government's infrastructure minister, Denis Label, said the cost of the public-private partnership (PPP) project would be $4.2 billion. The consortium, called Signature on the Saint-Lauren Group, will design, build and finance the project. Construction is projected to cost $2.25 billion, with completion set for the end of 2018. The consortium, in which SNC-Lavalin is a 50 per cent partner, will also maintain and operate the bridge until 2049.
The Champlain Bridge is the major gateway into the city of Montreal, handling from 40 to 60 million cars, trucks and buses each year, according to SNC-Lavalin. As well, more than $20 billion in cross-border goods pass through the trade corridor of which the bridge is a part each year.
A second, smaller bridge to Nun's Island in the St. Lawrence River is included in the contract. Also included is the reconstruction and widening of a portion of highway, the Autoroute 15, as well as the operation of a new Champlain Bridge Corridor and tolling infrastructure.
The announcement comes just days after SNC-Lavalin was named as one of the builders of Toronto's $5 billion Eglinton Crosstown LRT system.
The company has been awarded these large PPP projects despite its legal difficulties, arising from charges of fraud in Libya and Bangladesh. SNC-Lavalin was facing charges of bribery and fraud involving tens of millions of dollars and could have been banned from bidding on government projects in Canada. The company has in fact been banned from bidding on any of the reported $1 trillion worth of infrastructure projects being built or planned by the World Bank. The ban was imposed in 2013 and was to last for ten years, also affecting more than 100 affiliates of SNC-Lavalin.